Germany's Bosch Packaging Technology has launched new pure steam generators and distillation units to produce sterile and pyrogen-free pure steam or WFI (water for injection).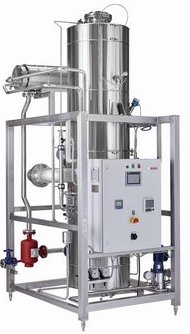 WFI is required for the production of infusion and injection solutions, while pure steam is used to sterilize equipment components such as preparation vessels, piping systems and filling machines.
Steam generators are available in six different sizes, while distillation units are available in ten different sizes. According to the company, the new units hold a performance range of 100 to 7,500kg per hour.
Bosch's new distillation units feature preheater, which uses pure steam to preheat the feed water, helping in reducing demand for heating energy.
The firm is providing preheater as an option for pure steam generators. It is enriched with condensate from the heating steam.
The equipment's evaporator operates as per the natural circulation principle, while high thermal transfer allows the system to be heated up smoothly without causing temperature stress for the evaporator.
Bosch subsidiary Pharmatec sales director John Medina said: "We contribute to a significantly more efficient production of pure media and to more sustainability in the pharmaceutical industry."
"Since the production of pure steam and WFI is particularly energy-intensive, improvements in efficiency play an important role in sustainability and climate protection."
Image: Bosch's new pure steam generator. Photo: courtesy of Robert Bosch GmbH.
Source:
http://machineryandequipment.packaging-business-review.com/news/bosch-launches-new-pure-steam-generators-and-distillation-units-150416-4865596