Toshiba Corporation's Semiconductor & Storage Products Company today announced the addition of 4 new products to its line-up of the "TL1L4 series" of high power white LEDs, that achieve high luminous flux of 140lm(min.). Shipment of the new products starts from today.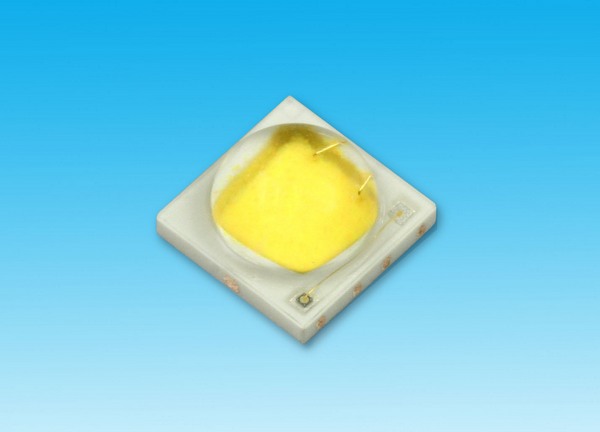 The new "TL1L4 series (4A5B type)" achieve a high luminous flux of 140lm(min.) [1]compared to the 130lm(min.) of conventional general products of the "TL1L4 series". The 4 new products are in correlated color temperatures (CCT) of 6500K/5700K/5000K/4000K with a color rendering index of Ra70. The new products make it possible to achieve market requirements of lighting fixture efficacy over 110lm/W[2], and can contribute to improving luminous efficacy and lower power consumption of LED lighting applications.
Key Features of the New Products:*Test conditions: IF=350mA, Tj=85°C (Hot binning)
*Luminous Flux @Ta=25°C is reference value.
*The characteristic table above is presented for typical value.
* Utilizes GaN-on-Si technology[3] developed for LED lighting
* 3.5 x 3.5mm lens-top package
* Luminous flux/forward voltage/chromaticity/color rendering index(Ra) are sorted @IF=350mA, Tj=85°C.
* Luminous flux: 140lm(min.) @IF=350mA, Tj=85°C
(165lm@IF=350mA, Ta=25°C)
* Forward voltage: VF=2.8V@IF=350mA, Tj=85°C
* Color temperature variation: 6500K/5700K/5000K/4000K
Source:
http://www.ledinside.com/products/2015/8/toshiba_expands_line_up_of_high_power_leds_for_lighting_applications