There is a breakthrough on wearable tech revolution where we can ditching our smartphones for smartwatches like the LinkMe bracelet.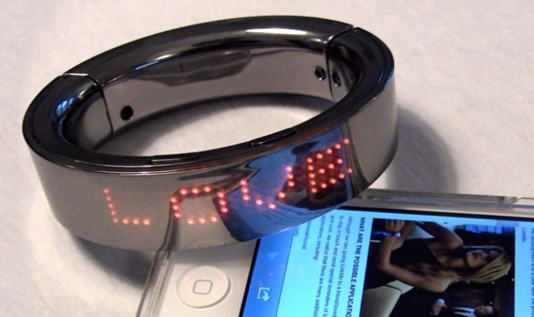 The LinkMe is designed to serve as a mini billboard to display text messages on your wrist. Although the device is well designed and looks decidedly futuristic, its functions are actually pretty simple. When a person sends a text message via the LinkMe app, the message is transmitted from their smartphone, to the recipient's smartphone, and then over to the person's LinkMe bracelet in bold, colorful LED letters.
When not in use as a message billboard, the device defaults to a regular wristwatch, and a single charge gives the device enough juice to power its 125 LED lights for up to two weeks. The final retail price will be around $150, but you can snag a discount as an early adopter on Kickstarter.
Source:
http://www.ledinside.com/news/2013/4/a_led_billboard_applied_smart_bracelet_20130402