TP Halo and Thailand's Provincial Energy Agency are collaborating on launching new LED T8 tube lights in Thailand, said representatives interviewed at EcolightTech Asia 2015, which ran from Nov. 19-21, 2015 at Queen Sumkivrit Convention Center in Bangkok, Thailand.
Thailand's energy authorities have no intention to set up new power plants, and are aiming to curb energy consumption from the consumer end, said Narongchai Kitrangsikul, Marketing Director, Specailty Tech Corporation, a distributor for PEA Encom. Last year, the Thai government had rolled out various LED bulb incentives to urge Thai consumers to swap less energy efficient traditional lights to LEDs. This year the PEA is starting to promote LED T8 tube lights, which are a popular lighting product in the country.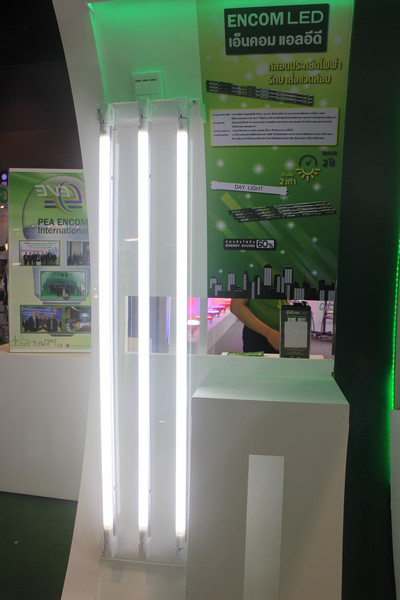 PEA Encom and Tp Halo have partnered up in promoting LED T8 tube lights in Thailand. (LEDinside)
"We chose LED T8 tube lights because they are easier to replace, and can be retrofitted directly with existing fluorescent lights," said Kitrangsikul. "Consumers only need to switch the starter, they do not need to change the ballast, and it does not require any rewiring." In contrast, LED T5 tube lights specs are shorter, less energy efficient and require rewiring, he added.
The LED T8 tube lights are expected to be retailed at a competitive price of 399 Thai baht on the market, said Kitrangsikul. In addition, the state-owned company intends to promote E27 LED bulbs next year.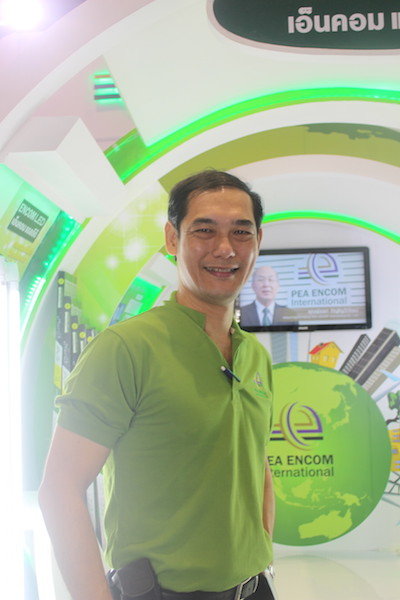 Narongchai Kitrangsikul, Marketing Director, Specailty Tech Corporation, a distributor for PEA Encom.
"TP Lighting has received in total 1 million LED tube light order from PEA", said Howard Huang Managing Director of TP Lighting. The company has shipped its first batch of 200,000 LED T8 tube lights to PEA. The company expects to deliver the total orders by end of this year. According to Huang, fewer consumers in Thailand are opting for LED T5 tube lights at the moment, since related subsidies have been withdrawn by the Thai government.
Thai government's decision to promote the conversion of fluorescent and other traditional tube light technologies to LEDs is a rather interesting one. "In the U.S. T12 tube lights used to be the standard, but people are gradually swapping to T8 tube lights," said R. Soctt Kern Vice President and General Manager of Soitec Lighting. "It will only be a matter of time before T8 tube lights are replaced by T5 tube lights."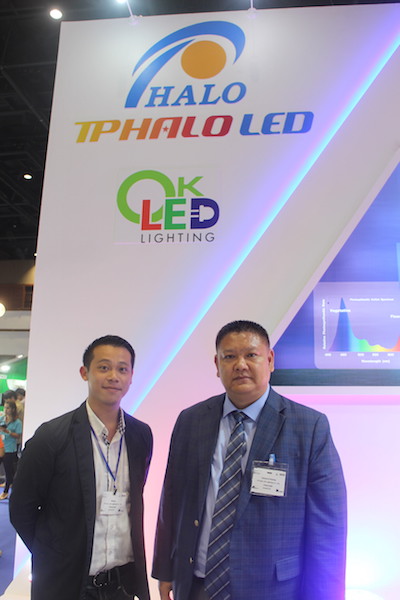 TP Lighting Director Howard Huang (right) and company marketing director Moses Chang (left). (LEDinside)
Critically ill Thai celebrity raises awareness on importance of insect repellent lights
Aside from general lighting LED tube lights, TP Lighting was also displaying a deep yellow tinted insect repellent LED tube lights at its stall. The light attracted a lot of attention from visitors and competing LED manufacturers. "The public in Thailand is starting to pay attention to insect repellent lights, after popular Thai actor Por fell into a comatose from a severe dengue infection," explained Huang.
Popular 37-year old Thai actor Por Thrisadee Sahawong (known commonly as Por) in Thailand has been critically ill from dengue fever, a disease transmitted from mosquito bites, since early November 2015, reported Bangkok Post. He has been admitted to Ramathibodi Hospital in Bangkok on Nov. 9, 2015 and was diagnosed with dengue haemorrhagic fever.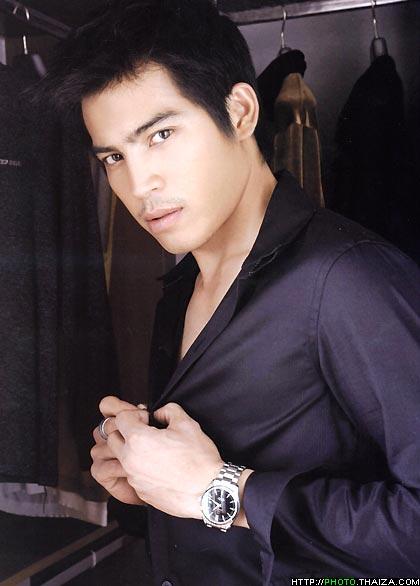 Thai actor Por Thrisadee Sahawong, who has been in a critical condition from being infected by severe dengue, has made the Thai public more aware of insect repellent lights. (Photo courtesy of Photo.Thaiza.com and AsianFuse wiki)
He had difficulty breathing last Monday, and was placed on a respirator, but later suffered from renal failure. His condition worsened the following day, and his blood pressure dropped while acidity increased in his blood. The Thai celebrity also suffered from severe lung bleeding, shock and heart arrhythmia.
The actor who has been in intensive care since Nov. 11, 2015 was resuscitated for about three minutes and required blood pressure stimulants. Although, he has responded to treatments doctors have been concerned about possible complications. Last Sunday doctors had amputated the actor's left foot, due to complications from the disease.
TP Halo's insect repellent tube lights displayed at EcolightTech Asia 2015. (LEDinside)
Thailand's permanent secretary for health Sophon Mekthon noted more than 100,000 people were treated for haemorrhagic fever in Thailand this year, slightly down from 110,000 in 2014.
Data compiled by Thai Bureau of Epidemiology last week indicated dengue cases reported from 77 provinces had reached 107,563, reported the Global Dispatch. The disease has claimed 102 lives in Thailand this year, reported The Nation. The figures indicate an urgent need for public to take preventive measures against the common but potentially deadly disease.
The turn of event has heightened the general public's awareness of insect repellent lights in Thailand. TP Halo aims to become the first LED manufacturer to introduce 7W insect repellent LED bulb lights with 560 nm to 590 nm wavelength range to the general public. The LED bulbs rely mostly on imported components from China, but the LED package is in-house developed, said the company's marketing director Moses Chang. The bulbs are being retailed at a discounted price of 199 Thai baht, but are being sold for about 229 Thai baht on 7-11 convenient store catalogues throughout the country, he added.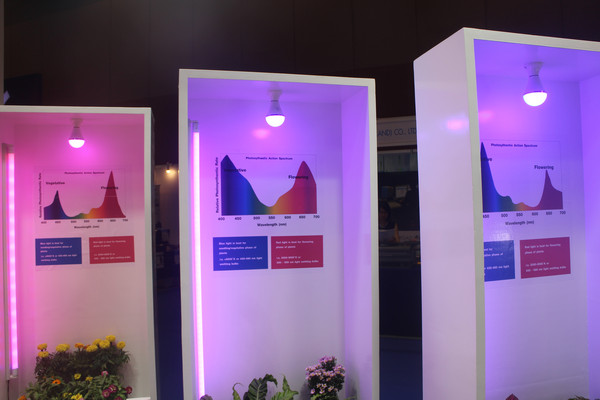 TP Halo LED grow lights displayed at EcolightTech Asia 2015. (LEDinside)
TP Halo tests Thai market with LED growth lights
Additionally, the Thai LED manufacturer, which is first company to manufacture LED package products in the country, is testing local market reaction to LED grow lights this year. The company is collaborating with Chinese research institute Chinese Academy of Agricultural Sciences(CAAS)'s plant tissue growth laboratory headed by Shiqiang Jia, said Huang.
The company's LED grow lights integrate both red and blue LED growth lights into a single luminaire, and aims to sell the product to local agricultural associations. Some market applications the company is looking into include orchid market and succulent plant growth applications. The orchid market might be especially promising in Thailand, where it remains a top global orchid exporter. Orchids also happen to be Thailand's national flower.
Before floods hurt the country's orchid exports in 2011, the country was shipping 2.3 billion to 2.5 billion Thai baht worth of orchids annually from 2006-2011, according to a Bangkok Post report. In 2010 it was ranked the world's top orchid exporter, with half of its flower exports going to Japan. Floods in 2011 setback the government's aim for the orchid export market to reach 10 billion Thai baht, according to the report.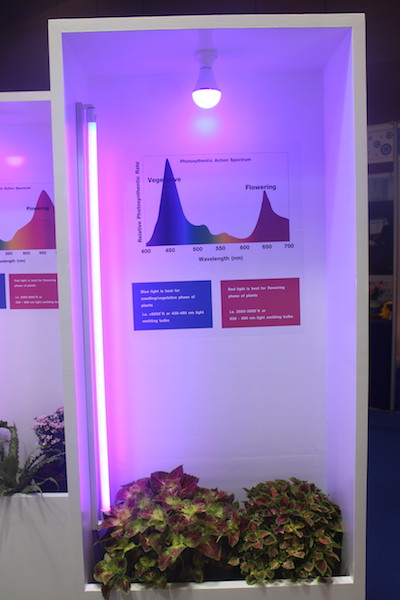 TP Halo LED grow lights seen up close. The company is cooperating with Chinese Academy of Agricultural Sciences (CAAS) to develop its grow lights. (LEDinside)
Fast forward to 2014, the country's orchid export declined to 1.77 billion Thai baht, due to the waning global economy, according to statistics published by The Royal Thai Consulate in Chennai India. Last year, 46% of the country's orchids grown were exported abroad, while the remaining 54% were for domestic consumption. The country's main export markets include Japan, U.S., China and Italy.
Still the orchid industry in Thailand remains promising since it remains heavily supported by the government's agricultural department. If TP Halo is able to position itself in the right market sector, it might be able to enter Thailand's niche market of orchid farm lighting and see its LED grow light demands blossom.
Source:
http://www.ledinside.com/showreport/2015/11/tp_halo_and_pea_team_up_to_promote_led_t8_tube_lights_in_thailand