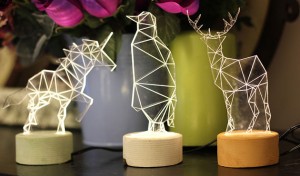 iLLuminite is a collection of decorative night lights by SturlesiDesign inspired by the search for a more unique and original approach to night lights and ambient lights.
After opening a small studio in Tel Aviv in 2009, designer Amit Sturlesi started work on his first project the acryLamp – a decorative solution for emergency blackout office corridor lights.
3 years later the iLLuminite collection was born. Sturlesi found that the acrylic glass functions much like fiber optics, lighting up one side and channeling the light through to the other side. Playing with engravings on the acrylic also emits the light.
To keep production costs down Sturlesi's search for a cheap base material settled at concrete, which could take on any form and when combined with the right materials gave a high-end aesthetic. The contrast between the harsher concrete base and decorative acrylic light give this range an inviting look and feel.
Source:
http://www.furniture-magazine.com/news/article/sturlesidesign-unveils-new-collection-lights/