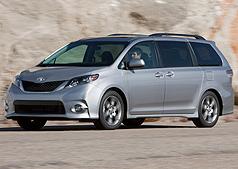 Conventional wisdom says that car deals are better at the end of the year.But is this still true?Our analysis shows,some new-car offers in late December are great,while others are just hype.
Working with TrueCar,our data analysts scrutinized car-pricing information for the past four years,identifying trends in incentives,rebates,and pricing to determine when are the best times to buy.
While the perpetual year-end clearance ads depicting cars with bows on top could lead one to believe a magical,once-in-a-lifetime savings opportunity will soon end,we find the deals aren't always better.It is also worth noting that July is another peak time for new-car discounts.
We focused our analysis on Consumer Reports recommended models:those vehicles that performed well in our more than 50 tests,have average or better predicted reliability,and have solid performance in crash tests.After all,the saying that a"good deal on a bad car isn't good"still holds true.
Focusing on the good cars,we find that about 30 of 240 current models have better deals this December than in November.This group includes a mix of 2012 and 2013 models.Despite the proverbial cash on the hood,those 2012s that still linger on dealer lots are fast losing their appeal,as they are likely the least desirable configurations and those models have already depreciated a year's worth BEFORE being driven off the lot.
The deals on this group range from$500 to$4,000 better than the month prior,with total discounts ranging up to$6,000.
The best year-end deals
| | | |
| --- | --- | --- |
| 2012 Toyota Sienna 8-Pass I4 LE | $1,500 | $2,023 |
| 2012 Toyota Sienna 7-Pass Van V6 XLE | $1,500 | $2,310 |
| 2013 Chevrolet Suburban 1500 LTZ 4WD | $1,023 | $4,276 |
| 2013 GMC Yukon XL 1500 SLT 4WD | $1,023 | $3,299 |
| 2012 Chevrolet Suburban 1500 LTZ 4WD | $1,000 | $4,743 |
| 2013 Nissan Rogue SV AWD | $1,000 | $2,235 |
| 2013 Acura MDX AWD | $1,000 | $3,366 |
| Model | Added year-end discount | Total discount |
| 2012 Hyundai Genesis sedan V6 3.8L | $4,000 | $6,026 |
| 2012 Hyundai Genesis sedan V8 4.6L | $4,000 | $6,335 |
Annual trends show the higher-than-average,year-end discounts tend to fade away with the closing of December incentives in first week in January,meaning that in general,prices are as low as they are likely to be for most 2012 models.Of course,supply,demand,and model changeover for specific vehicles play an important role.
That said,we found that the vast majority of vehicles for sale now with discounts are not marked down lower than last month.So,good deals can be had.But outstanding deals may be less frequent than advertising would lead you to believe.
As always,do your research to find the best model that meets your needs and fits your budget,factoring test scores,reliability,owner costs,and safety.All this information and more is available on our model pages.
Source:
http://news.consumerreports.org/cars/2012/12/are-car-deals-better-at-the-end-of-the-year.html