HIGH POINT -- Luonto Furniture will have a new showroom and a larger product line at the High Point Market, and as a promotion will have a drawing for a chance to win a luxury, electric hybrid Fisker Karma sports car.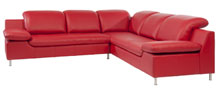 This sectional is in the Luonto Furniture line, which will be on display in the company's new High Point Market showroom in 220 Elm.
Luonto, a manufacturer of contemporary Euro-style seating, is a division of Pohjanmaan Kaluste Oy, Scandinavia's largest upholstery producer with factories in Finland.
It will show this market in 4,000 square feet in 220 Elm, space 306, moving from a smaller showroom in the International Home Furnishings Center. It also will offer fabric covers on its seating line, in addition to the leather covers previously available.
At market, furniture buyers who register at the Luonto showroom will have a chance to win a new Fisker Karma sports sedan, a 403-horsepower plug-in hybrid that retails for $113,000. Owners of the car include celebrities Colin Powell, Al Gore, singer Justin Bieber and actor Leonardo DiCaprio, who received the first Fisker Karma ever built.
It's not certain someone will win the car - the winning buyer will have a shot at a contest that involves opening a series of envelopes - but the company hopes to give one away, said Chuck Rudwall, president and CEO of Luonto.
"The Fisker Karma is a special automobile - an environmentally friendly product that is hand-made in Finland. Our furniture products are also environmentally friendly and hand-crafted in Scandinavia," Rudwall said.
A 2012 model of the car will be on display in the 220 Elm courtyard during the Oct. 13-18 market, courtesy of Flow Auto in Winston-Salem, N.C., the local Fisker dealer.
Luonto Furniture says it strives to minimize the use of natural resources in its manufacturing process, with energy use, water consumptions and emissions minimized. Wood waste generated in manufacturing, for instance, is used as a bio fuel to heat the production plants and a local school.
Other production waste also is recycled, and the company focuses on using natural and recyclable raw materials from nearby areas. Wood comes from Forest Stewardship Council-certified forests.
Luonto is ISO 9001 and ISO 14001 accredited, meeting quality and environmental standards.
In the U.S., it has a customer service office and a stocking warehouse in Greensboro, N.C. At market, Rudwall said, the company should do well in 200 Elm, which already houses more than 70 exhibitors including Palliser, W. Schillig and Home Meridian International.
"As far as the location, it is in a prime area where contemporary buyers are already shopping the building," he said. "We felt it would be a great fit as we grow as a company and expand our product line."