2.1. Chinese Export Quantity and Value of Generators (HS:8501)in Jan. - May, 2012
Month

Quantity(hundred million sets)

Value(hundred million dollars)

Year-on-Year ±%

Quantity

Value

1

2.22

7.29

-28.2

-0.2

2

2.14

6.01

11.3

25.8

3

2.70

8.33

-13.2

14.9

4

2.55

8.04

-15.6

6.9

5

2.65

8.63

-10.1

16.9

Total

12.26

38.30

-13

11.9
2.2. Chinese Major Export Countries/Regions of Generators(HS:8501) in Jan. - May, 2012
No.

Countries/Regions

Total in Jan. - May,2012

Year-on-Year ±%

Quantity(set)

Value(thousand dollars)

Quantity

Value

1

USA

84,733,094

651,746.4

16.8

25.5

2

Hong Kong

581,218,941

524,522.3

-16.5

7.4

3

Japan

147,869,607

427,734.9

-4.1

15.1

4

Germany

50,472,387

210,077.7

-26.2

18.1

5

Italy

21,279,137

159,492.0

-11.6

-0.7

6

Thailand

25,600,123

147,901.3

-16.9

22.6

7

Republic of Korea

60,535,849

144,442.4

-10.8

2.3

8

India

10,119,980

127,638.6

-7.6

5.8

9

Turkey

13,015,939

96,788.5

-1.4

0.5

10

Indonesia

8,715,953

80,418.5

1.4

5.8

11

Malaysia

13,341,372

74,365.5

-27.9

0.3

12

United Kingdom

3,430,076

69,091.1

8.4

32

13

Brazil

15,596,329

66,600.3

-17.1

3.7

14

Mexico

19,565,000

65,524.7

-2.2

39.2

15

Spain

2,825,689

54,531.1

2.5

15.6

16

Canada

10,256,526

52,184.2

9.1

21.5

17

Russian Federation

3,472,255

49,972.4

-30.4

-3.2

18

France

5,063,045

48,195.8

-47.6

7.8

19

Poland

3,865,634

41,499.1

51.4

117.4

20

Netherlands

27,024,577

41,461.2

-18.4

-21.6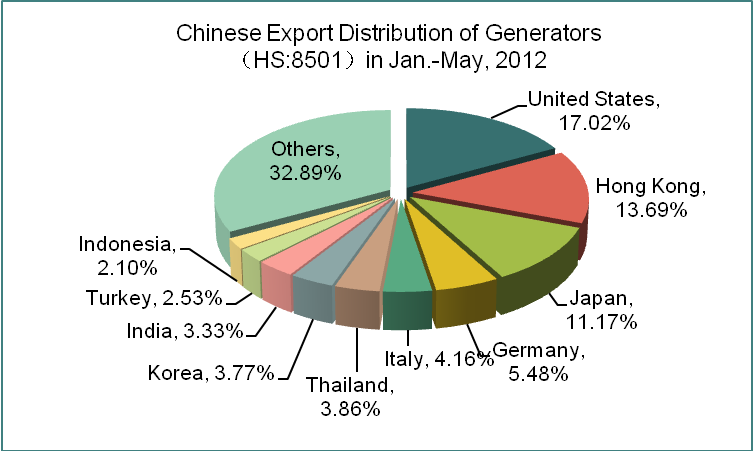 2.3. Chinese Major Export Sourcing Regions of Generators(HS:8501)in Jan. - May, 2012
NO.

Regions

Total in Jan. – May,2012

Year-on-Year ±%

Proportion (%)

Quantity(set)

Value(thousand dollars)

Quantity

Value

1

Guangdong

828,881,776

1,372,432.4

-17

10.7

35.83%

2

Zhejiang

84,317,548

714,918.2

0.5

16.5

18.66%

3

Jiangsu

84,841,359

668,701.2

44.2

19

17.46%

4

Shanghai

33,205,306

317,025.5

-43.6

-0.2

8.28%

5

Fujian

26,871,046

199,153.1

-11.1

-8

5.20%

6

Liaoning

116,903,959

160,077.7

-13.6

28

4.18%

7

Shandong

8,456,039

116,659.4

-16.1

21.8

3.05%

8

Tianjin

21,983,686

99,010.1

-0.3

16.6

2.58%

9

Hunan

5,850,770

37,854.2

44.4

28.5

0.99%

10

Hebei

404,264

32,177.5

-8

-12.6

0.84%

11

Beijing

130,804

16,354.7

-55.7

-27.8

0.43%

12

Sichuan

3,262

13,525.4

-13

258.1

0.35%

13

Anhui

1,933,683

12,274.1

424.8

45.8

0.32%

14

Jiangxi

1,351,653

11,690.2

18.3

79.4

0.31%

15

Henan

13,152

10,247.0

55.7

40.7

0.27%

16

Chongqing

1,071,064

9,903.7

-62.5

7.3

0.26%

17

Hubei

1,117,799

9,019.3

-16.8

-14.6

0.24%

18

Shanxi

95,463

7,031.1

1199.7

62.7

0.18%

19

Heilongjiang

373

5,697.5

-99.9

-47.4

0.15%

20

Guangxi

8,097,017

4,046.8

374242

1184.4

0.11%
From Jan. to May in 2012, the Chinese export Quantity and Value of generators reached 1.226 billion sets and $3.83 billion, down 13% and up 11.9% over the same period last year respectively.
The major export countries/regions include USA, Hong Kong, Japan, Germany, Italy, Thailand, Republic of Korea, India, Turkey and Indonesia, etc.
The major export sourcing regions include Guangdong, Zhejiang and Jiangsu province, and Guangdong's export accounts for 35.83% of the total export value from Jan. - May.
Source:
IAR Team from Made-in-China.com