RPC Bebo Plastik, a producer of thermoformed containers, has unveiled a new thermoformed cup for Café Coffee Day's new ready-to-drink iced coffee, Frappe Chill.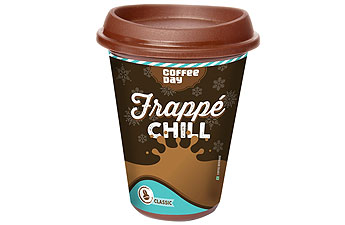 Developed in multilayer polypropylene with an EVOH layer to prevent oxygen ingress, the new on-the-go cup is designed to provide the necessary strength to allow hot filling.
Capable of extending shelf life and maintaining the quality of coffee, the cup can withstand retort for 30 minutes at 118°C, the company said.
Café Coffee Day official Senthil Murugan said: "Our new cup is ideal for busy consumers and commuters, and its multilayer construction ensures the quality of the coffee is not compromised throughout its long shelf life.
"We are delighted with RPC's contribution to this important project."
Featuring an integrated telescopic straw in the lid that can be expanded and contracted, the RPC Bebo's cup allows consumers to easily drink Café Coffee Day's Frappe Chill while travelling.
Frappe Chill is Café Coffee Day's take on the original frothy Greek beverage with a unique flavor and an iced coffee blend, RPC said.
In February, RPC Bebo Plastik has expanded its In-Mould Label Thermoforming (IML-T) technology. It also developed a concept which includes the production of lids with the enhanced quality decoration which In-Mould Labeling offers.
RPC Bebo Plastik currently manufactures thermoformed containers and lids in polypropylene, polystyrene and PET.
Available in different sizes ranging between 100ml and 1000ml, the company's products target the margarine and spreads, delicatessen, salads, conserves, ready meals, coffee capsules, baby foods and pet foods markets.
Image: RPC Bebo's new thermoformed cup prevents oxygen ingress. Photo: RPC Group Plc.
Source:
http://www.packaging-business-review.com/news/rpc-bebo-plastik-unveils-thermoformed-cup-for-coffee-packaging-280316-4848468