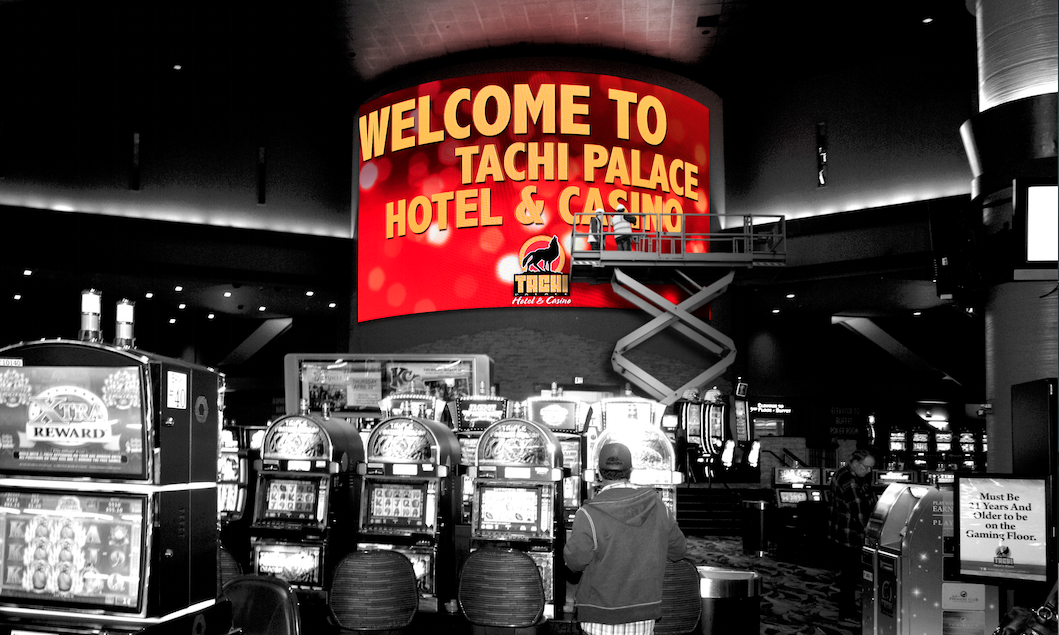 Tachi Palace Hotel and Casino in Lenmoore, California, earlier this year became the latest gaming resort to install a completely customized visual solution from NanoLumens, the manufacturer and marketer of complete visualization solutions, in its Casino of the Moon, according to an announcement today from the display manufacturer.
The 38-foot-by-21-foot NanoCurve solution installed by JCM Global, a transaction technologies supplier for the banking, retail, kiosk and gaming industries, was installed just in time for this year's Super Bowl game.
"JCM and NanoLumens began the installation on the Monday night before the Super Bowl game and worked straight through to Friday in order to be ready for the biggest television event of the year," NanoLumens Vice President of Marketing and Business Development Nate Remmes said in the announcement. "More and more gaming resorts are moving beyond the traditional ways of looking at 'signage,' and they are asking for visualization solutions that will mesmerize the consumers who come to their casinos to be wowed beyond their wildest imaginations."
Composed of 1,517 Nixels, the display houses more than 776,700 pixels. "The NanoCurve solution installed at Tachi Palace & Casino is equivalent in size to a 44-foot flatscreen television that delivers a seamless, bezel-free picture quality that goes beyond HD," Remmes said. "It is certainly the largest 16:9 non-faceted indoor curved video wall that we have ever installed, and it can be seen from virtually every angle inside the resort's Casino of the Moon."
Source:
http://www.led-search.com/news-view-4038.html