The January Furniture Show (JFS) has reported a record re-booking with 85% of 2016 exhibitors already signed up for 2017.
Over 450 companies exhibited at JFS 2016 and many renowned and well established names have booked again. They include Alstons Upholstery, Ashley Manor, Buoyant, Dar Lighting, Duresta, Ercol, Kettle, Lebus, Morris Furniture, Parker Knoll, Nolte Mobel, Rauch, Sherborne Upholstery and TCS to name but a few.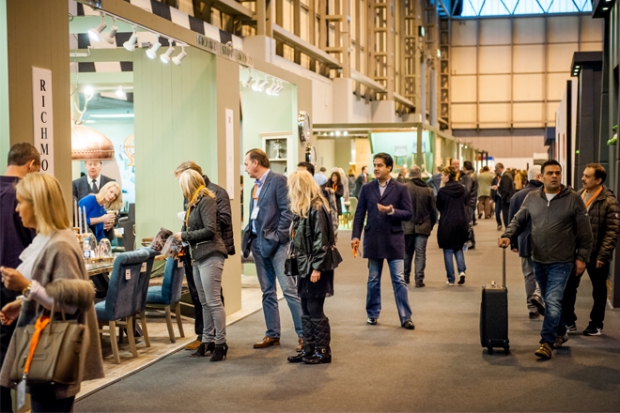 Laraine Janes, January Furniture Show director, says: "We're delighted at such a high number of re-bookings, newcomers and new enquiries - and it's only March. We're already looking forward to what is set to be a great 2017 event."
With additional space being added to meet demand, Hall 5 will strengthen its position as the biggest hall in the show with Buoyant, Lebus, Furminac, Ultra, Cintique, Furnico and Sherborne leading the charge to making it the must visit hall for serious upholstery buyers. The overall look and feel of it will be a major priority in 2017, with a new selection process for exhibitors, better lighting plus the addition of a new arrivals entrance and lounge for VIP buyers.
Sales director of Swaffer, Mark Wilkins, says: "We were pleasantly surprised with the breadth of clients from retailers, interiors designers and the contracts sector. We were impressed with the organisers who listened to what we wanted from the show and they made sure we were in a good position."
Organisers also reported a wealth of new enquirers from some renowned international brands - to be announced shortly - but already ALF, Aleal, AFOS Sofas, Entune Living and Batistella have applied to join Hall 2's international contemporary line up.
BFM members are also firmly behind the 2017 show, as BFM MD Jackie Bazeley explains: "BFM is pleased to confirm that all major companies have rebooked for next year thanks to success at the 2016 event. The January Furniture Show is a staple event in our diary. This year's show proved successful for us, and for members who exhibited, so it was a very easy decision for us to support the event next year. Being the biggest UK furniture event, it's extremely important that that the BFM is represented at JFS. It provides a platform for our members to launch new products and promote British furniture."
Source:
http://www.furniturenews.net/news/articles/2016/03/1624729725-january-furniture-show-2017-success-85-re-bookings