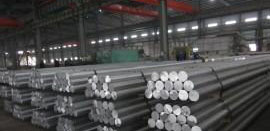 Chinese aluminum stocks at Shanghai Futures Exchange warehouses fell for the second consecutive week, slipping below 400,000 mt.
Aluminum inventories slipped to 398,854 mt Friday, down 1.8% week on week, the latest weekly data from the Chinese bourse showed.
The SHFE warehouses are located in Shanghai, Guangdong, Jiangsu and Zhejiang.
Stocks at Shanghai warehouses fell to 169,745 mt Friday, down 3.1% from last Friday; Zhejiang stocks dropped 3.7% to 36,301 mt; and Jiangsu inventories slipped to 83,718 mt, down 0.5%.
Inventories at Guangdong remained steady at 109,090 mt.
Source:
http://news.chemnet.com/Chemical-News/detail-2320080.html