Taiwan-based panel makers are expected to hold an over 50% market share in the Ultra HD TV panel market in 2014 while Korea-based makers are expected to hold 40%.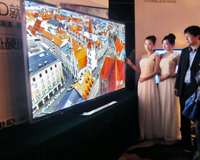 Taiwan makers' spot comes as they continue to develop new Ultra HD TV technologies as well as to their relatively early development of the technology while Korea-based makers plan to develop lower-priced units to compete in the China market.
Taiwan makers do allocate a proportion of production to lower-priced units but for the most part are focused on the high-end.
Korea-based panel makers will also bump up their market proportion through product differentiation strategies and improved yields.
China-based panel makers such as BOE and China Star Optoelectronics Technology (CSOT) meanwhile are expected to hold the remaining share and are reportedly already planning to produce 8K units in the second quarter of 2014 in small amounts, added Digitimes Research.
China's panel makers are also continuing to develop IGZO TFT TV panels in addition to transparent displays and curved Ultra HD TV products.