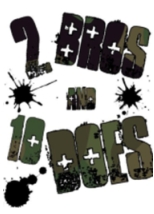 Aspaeris, a new provider of performance-enhancing, injury-prevention compression sportswear for female athletes, will sponsor ten females running the 196.9 mile overnight course in the Ragnar Relay Florida Keys on January 4-5.
They will kick off the 2013 racing season on January 4 by running from Miami across the Florida Keys and finishing in Key West the next day as part of the 12 person team called 2 Bros and 10 Does. Each female runner has been training in and will wear Aspaeris Pivot Shorts (APS) throughout the race.
The runners come from across the map, including Wisconsin, Tennessee, Illinois and South Florida, and several are veterans of Ragnar Relays. The team captain, Kristi Dunnam will be running her sixth Ragnar and looks forward to tackling the famous Seven Mile Bridge with help from her Pivot Shorts.
Another driving force is teammate Amanda Carey who previously prepared for a six-person ultra team in the 2012 Madison to Chicago Ragnar Relay, but tore a tendon in her foot 6 days prior to the race.
"I'm personally super excited about having the shorts to help hold me together as I climb all those bridges on the way from Miami to Key West," says Carey, who is no stranger to Ragnar preparation. "One thing in particular that I love about these shorts is the fact that they support the core. The muscles in my back, hips & tummy are weak from childbirth and I really notice it when running uphill. So as I'm pumping my way up onto the causeway, I know that Aspaeris Pivot Shorts will give me the added support to run my best."
APS is the only compression short designed specifically for females that improves performance, speeds recovery, and prevents injuries. In a recent survey, 80% of Pivot Short users reported a performance increase and 62% reported significantly faster recovery time when wearing the shorts after long runs.
APS is being worn by thousands of new users and has been tested by over 100 premier sports medicine professionals and athletic trainers. APS™ was worn by the fastest all-female Ultra team in the Ragnar Relay SoCal 2012 and is a proud sponsor of the Hartford Marathon Foundation.
Founded by Samara Innovations, LLC in 2010, Aspaeris is a female-centric sportswear company that strives to protect athletes from injury and enhance their performance with advanced compression apparel.
Source:
http://www.fibre2fashion.com/news/apparel-news/newsdetails.aspx?news_id=119399