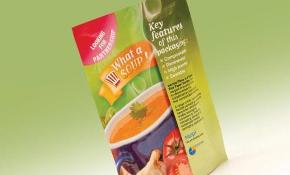 The paper company and the producer of speciality high performance Biaxially Oriented Polypropylene (BOPP) and cellulose films are collaborating to offer packaging manufacturers a compostable alternative to traditional structures.
The development is a response to the new EU Packaging Directive, which is set to come into force in 2014. It stipulates that the packaging producer will be responsible for ensuring that "packaging is not excessive for the purpose intended and is suitable for recycling, energy recovery or composting".
Traditional packaging structures made from thin layers of mixed materials can be difficult to recycle, according to Innovia.
'Food-contact approved'
In a statement, both firms stated: "By combining their separate respective compostable substrates, Innovia Films' NatureFlex and Sappi's Algro Nature, the companies can offer an alternative combining technical properties with equivalent packaging performance.
"Both NatureFlex and Algro Nature are certified compostable and food contact approved and are manufactured from renewable resources, wood sourced from managed forests."
Innovia Films product manager Paul Barker said: "The combination of these natural materials provide the essential barrier requirements of each of the product groups represented by these prototype coffee, snack bar and single serve drink packs.? In real applications this packaging would facilitate the disposal of the contents with the packaging into either home or industrial composting environments."
Opus 21 Digital director Mark Hunter Purvis explained: "We found the supplied substrate very easy to print onto, it was also very easy to heat-seal and form into pouches, bags and flow wrap packs."
Innovia Films marketing manager for Packaging & Sustainability Andy Sweetman added: "Innovia Films will be working closely with Sappi in 2013 to promote these compostable laminate pack concepts.
Part of this promotion will include us exhibiting at the easyFairs Packaging Innovations event in London as it is a great way to engage with designers, brand owners and end users involved in the packaging industry."
Innovia Films will be at stand VG16 at the Packaging Innovations London, on 1-2 October 2013, at the Business Design Centre London.
Source:
http://www.packagingnews.co.uk/events/easyfairs/innovia-films-to-demonstrate-partnership-with-sappi-at-packaging-innovations/