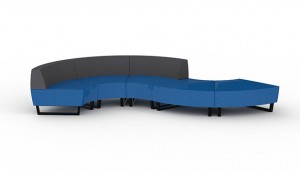 This year's Clerkenwell Design Week provides the perfect platform for Lyndon Design to unveil 'us' – an infinitely versatile modular seating solution that is suitable for straight and curved configuration in various colours, styles and arrangements.
Designed in-house and originating from a bespoke customer order, 'us' is ideally suited for corporate areas where break out spaces are increasingly popular from intimate reception lobbies to expansive atrium areas. However, its soft rounded form and high level of comfort extends its appeal to the hospitality and leisure sectors, including shopping centres and other public areas.
'us' may be specified in a wide variety of fabrics and leathers and comprises single, two and three seat sizes that are available with or without backs. 45° and 90° seating with or without long and short backs are also available, and these enable circular and curved seating designs to be created.
Whilst an oak under frame delivers excellent aesthetics, it also epitomises the high quality and craftsmanship characteristic of Lyndon Design. A range of corner link units in various shapes and sizes serve to complete this fully flexible seating solution and caters for a wide range of users and environments.
Tim Armitt, Managing Director at Lyndon Design comments: "The popularity of break out spaces that offer comfort and functionality in the corporate environment was the inspiration behind 'us'. Not only does the sheer number of modules in this collection present endless possibilities for configuration, by introducing a softer and more rounded look, 'us' sits equally well in many other communal spaces and public areas."
Tim adds: "The launch of 'us' maintains our continued cross-over into the corporate sector, offering a superior seating solution that combines aesthetics, comfort and innovation with functionality and unrivalled craftsmanship."
Source:
http://www.furniture-magazine.com/news/article/lyndon-design-unveil-us-clerkenwell-design-week/