UK-based plastic pallets supplier Goplasticpallets.com has launched the GoBox 1210 BBE, a grocery box that helps in keeping fruits and vegetables fresh for a long time.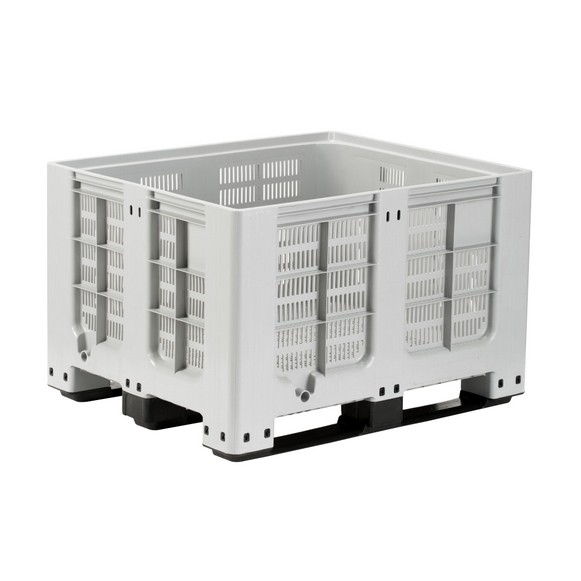 These new perforated, rigid plastic pallets are said to be suitable for the transportation of fresh produce and other ingredients.
The company says that packaging fresh harvested fruits and vegetables speeds up the process of their deterioration. However, this new box has a perforated base and side walls which help in the circulation of air, product cooling and ventilation.
Owing to its rigid structure, the box offers strength and protection, thereby extending the life of the products.
The boxes are also suitable for extremely hot and humid temperature and temperatures as low as -40oC.
Made from virgin, fully recyclable high density polyethylene, the boxes measure 1200mm (L) x 1000mm (W) x 760mm (H) and weigh 37.5kg. It has an internal capacity of about 670 litres.
The boxes are supported on three skids and can tolerate loads of up to 500kg. They can be stacked up to nine boxes high and offer a total stacking load of about 4500kg.
Goplasticpallets.com managing director Jim Hardisty said: "Growers, wholesalers and supermarkets can achieve significant cost and environmental savings by switching from single-use corrugated packaging, to returnable plastic containers.
"Our new GoBox 1210 BBE grocery box has been specifically designed to meet the hygiene and environmental requirements, so strictly stipulated by the grocery industry and food processors."
Claimed to be completely water resistant and resistant to UV and infrared, the GoBox 1210 BBE are available in two colours - blue and grey.
Image: The GoBox 1210 BBE. Photo: courtesy of goplasticpallets.com.
Source:
http://packagingmaterials.packaging-business-review.com/news/goplasticpallets-launches-new-grocery-boxes-to-extend-life-of-fruits-and-vegetables-121114-4435476