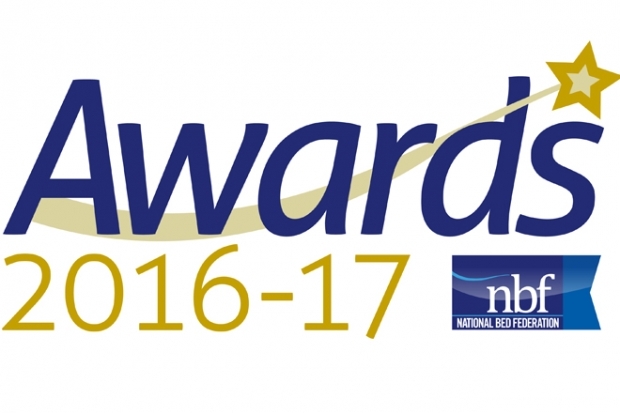 The five winners of this year' National Bed Federation (NBF) Bed Industry Awards have been announced. Now in their sixth year, the awards recognise the companies considered best in class over the past 12 months.
The winners were: Kaymed UK (Bed Manufacturer of the Year); Vitafoam (Bed Component Supplier of the Year; Mattress Online (Bed Retailer of the Year with over £5m in beds turnover); Sussex Beds (Bed Retailer of the Year with under £5m of beds turnover; and Dreams (The Judges Choice award).
The winners were chosen from a bumper crop of entries by an independent panel of judges consisting of editors from the industry's trade journals (Keely Portway, Cabinet Maker; Richard de Melim, Furnishing Report; Paul Farley, Furniture News; and Andrew Kidd, Interiors Monthly) along with Bernard Eaton, MD of Greenwood Retail.
The awards were presented by comedian Marcus Brigstocke at the Bed Show's Gala Dinner at Telford International Centre last night.
This year's Bed Manufacturer of the Year prize went to Kaymed UK, which was praised for its winning strategy of product innovation, substantial marketing investment and impressive sales results across a range of retail customers.
Runner up in this category was the Steinhoff Bedding Group, which deserved recognition its investment in new fleet and warehousing, training amongst its employees and driving sales points upwards.
Winning Bed Component Supplier of the Year was Vitafoam. Manufacturer testimonials speaking volumes for its Revo concept, plus a sustained investment in plant, made Vitafoam a worthy winner. Praise was also given to John Cotton Nonwoven division, which came highly commended in the category for taking the lead on sustainable manufacturing and enduring high standards.
Scooping Bed Retailer of the Year (over £5m beds turnover) was Mattress Online. Showing demonstrable top- and bottom-line performance with average order values rising, the judges also recognised the high customer feedback despite operating in the value segment market. Bensons for Beds, which continues to lead the market and shows steady improvement and refreshment while also making significant investment in training, was highly commended.
Competition was strong for the Bed Retailer of the Year (under £5m beds turnover) category, with entries from across the country. This year's award went to Hailsham-based Sussex Beds, which was chosen for its sheer determination in turning around a business that was experiencing falling sales and footfall. This family-owned company took drastic steps to change its approach and challenge the directors to drive the business forward, and it is now a retailer that is consistently producing great figures, improving its branding, and is set to expand further.
Sound Sleep, based in Diss, Norfolk, came second, for showcasing how a 'shop in a field' can drive business forward with great marketing initiatives.
The new Judges Choice award went to Dreams. The award, based on one outstanding element of an entry, was given in recognition of the company's multi-million pound Replace Every Eight marketing campaign, which has not only increased LFL performance and changed consumer perception but has also benefited the whole industry.
Ebrahim Patel, president of the NBF, comments: "Now in their sixth year, the Bed Industry Awards are the pinnacle of excellence, and this year the competition was stronger than ever with the quality of entries improving YOY, giving the judges an ever harder task. Once again the awards demonstrate that the bedding industry has some brilliant companies doing very brilliant things – and it's great to be a part of that. Well done to our winners!"
Source:
http://www.furniturenews.net/news/articles/2016/09/1005352444-nbf-names-bed-industry-champions-2016/17