Export Quantity&Value for Dog or Cat Food put up for Retail Sale (HS: 230910) from Jan. to Sep. in 2012
Month

Quantity (Kg)

Value (USD Thousand)


Year on Year (±%)

(Quantity)

Year on Year (±%) (Value)

Jan.

11,458,117

69,331.4

4.5%

11.5%

Feb.

7,213,966

43,706.5

36.8%

44.3%

Mar.

10,649,547

65,856.7

4.1%

7.9%

Apr.

11,559,731

70,109.7

9.0%

13.7%

May

12,568,659

76,637.0

13.9%

13.6%

Jun.

12,684,386

77,993.0

23.5%

25.5%

Jul.

11,640,423

70,902.9

6.1%

6.5%

Aug.

11,681,684

73,410.6

14.8%

28.8%

Sep.

11,835,561

72,122.9

17.4%

18.7%

Total

101,292,074

620,070.7

13.0%

17.2%
Major Importers for Chinese Dog or Cat Food put up for Retail Sale (HS: 230910) from Jan. to Sep. in 2012 (Sorted by Value)
No.

Countries/

Regions

from Jan. to Sep. in 2012


Year on Year (±%)

Quantity (Kg)

Value (USD Thousand)

Quantity

Value

1

USA

52,112,911

350,188.5

16.2%

13.5%

2

Japan

18,885,880

103,956.3

-3.1%

7.3%

3

Germany

6,191,199

39,190.2

16.4%

40.0%

4

Republic of Korea

3,507,062

23,801.8

6.7%

11.6%

5

United Kingdom

5,035,697

21,244.7

17.0%

25.4%

6

Canada

2,599,118

18,648.4

52.9%

66.8%

7

Netherlands

1,425,593

8,969.5

48.0%

65.8%

8

Belgium

1,910,055

8,619.4

6.2%

21.9%

9

Finland

988,878

5,256.0

62.0%

99.5%

10

Sweden

1,049,690

4,995.3

44.1%

55.7%

11

Czech Republic

877,451

4,591.0

62.9%

78.0%

12

Russian Federation

506,789

4,213.2

99.9%

141.9%

13

Hong Kong

839,215

3,593.3

36.6%

26.4%

14

Italy

711,586

2,824.4

1.5%

11.7%

15

France

701,991

2,788.6

5.8%

9.6%

16

Denmark

620,693

2,608.0

-21.8%

-12.6%

17

Australia

420,116

2,455.8

-6.2%

15.1%

18

Chinese Taipei

330,910

1,446.8

-13.9%

-11.5%

19

Singapore

269,901

1,355.3

63.5%

54.1%

20

Switzerland

138,759

1,104.3

17.8%

31.3%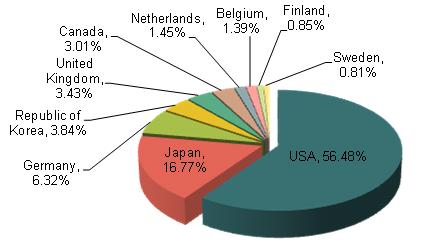 Customs' Export Quantity&Value for Dog or Cat Food put up for Retail Sale (HS: 230910) from Jan. to Sep. in 2012 (Sorted by Value)
No.

By Customs

from Jan. to Sep. in 2012

Year on Year (±%)

Quantity (Kg)

Value (USD Thousand)

Quantity

Value

1

Shanghai Customs

41,425,856

253,130.7

49.0%

57.5%

2

Qingdao Customs

23,426,506

147,365.9

11.1%

21.6%

3

Nanjing Customs

9,374,311

66,809.6

-38.7%

-41.7%

4

Tianjin Customs

8,270,886

61,596.1

7.8%

12.9%

5

Ningbo Customs

9,789,616

44,254.0

10.7%

27.3%

6

Dalian Customs

4,345,613

32,245.7

-8.7%

7.1%

7

Guangzhou Customs

1,276,570

4,533.5

8.1%

40.1%

8

Gongbei Customs

1,815,070

3,402.1

63.3%

74.5%

9

Xiamen Customs

446,258

2,699.0

-22.8%

2.2%

10

Fuzhou Customs

424,921

1,424.8

13.8%

11.4%
Major Cities/Provinces for Dog or Cat Food put up for Retail Sale (HS: 230910) from Jan. to Sep. in 2012 (Sorted by Value)
No.

Cities/Provinces

from Jan. to Sep. in 2012

Year on Year (±%)

Quantity (Kg)

Value (USD Thousand)

Quantity

Value

1

Shandong

40,279,317

287,923.6

29.2%

39.3%

2

Zhejiang

26,709,017

128,825.2

15.9%

26.6%

3

Jiangsu

18,874,590

122,162.2

-11.7%

-18.4%

4

Liaoning

4,263,637

31,727.0

-9.8%

6.2%

5

Tianjin

3,007,914

18,596.5

22.5%

18.3%

6

Jiangxi

1,976,710

10,216.7

29.5%

38.1%

7

Guangdong

3,484,206

9,069.4

37.5%

54.4%

8

Fujian

717,222

3,551.1

18.4%

25.2%

9

Henan

535,099

2,442.1

-2.4%

4.9%

10

Chongqing

534,264

1,801.4

29.3%

44.3%
From Jan. to Sep. in 2012, the total export quantity for dog or cat food put up for retail sale achieved 101 thousand tons, up 13% year-on-year; and the total export value was about 0.62 billion dollars, with a rise of 17.2%.
The major importers were USA, Japan and Germany and so on. The export value for USA occupied 56.48% of the total export value. Among the countries mentioned above, export markets for Finland and Russian Federation grew the most, which export values increased 99.5% and 141.9% respectively.
The major exports Customs were Shanghai, Qingdao and Nanjing and so on. In the top 10 exports Customs, Shanghai and Gongbei's export values grew more than 50%, up 57.5% and 74.5% respectively.
The major cities and provinces concentrated in Shandong, Zhejiang and Jiangsu.
Source:
IAR Team from Made-in-China.com