Mainly due to uneven recovery and ongoing systemic problems in global economies along with depreciating Japanese yen against the greenback, Taiwan's plastic and rubber machine industry experienced declining exports during the first half of this year, which will continue for the rest of 2013, according to insiders.
The latest statistics issued by the Taiwan Association of Machinery Industry show the sector exported US$406.857 million in the first fourth months of this year, down 1.1% compared to US$411.361 million a year ago, as the machinery industry saw overall exports decline 6.8% year on year to US$6.166 billion from US$6.616 billion.
Local plastic extrusion machine suppliers, mired amid shrinking orders, say that business is down seriously. A company director in Taiwan's southern city of Tainan, hub of many plastic extrusion machine and parts makers, say that in some of his peers may suffer deeper drops in the second half, judging from sluggish orders that should typically peak during the third-quarter high season.
A few local suppliers said in interviews with CENS that they have stayed in comparatively good shape in the first half due mostly to consistent dedication to technology improvements.
Ho Hsing's president F.Y. Tsai (left) and overseas sales general manager Alex Chen at corporate headquarters in Tainan.
Ho Hsing
With a history of nearly four decades, Ho Hsing Precision Industry Enterprise Co., Ltd. makes precision parts and components for plastic extrusion and injection molding machines, having finished the first half with robust growth, according to president F.Y. Tsai and overseas sales general manager Alex Chen.
The company began by providing metal parts processing services, and has grown into a well-known supplier in Tainan, supplying wide-ranging screw components, sintered dual-hole barrels, screw spindles, twin screws, planetary-type screws, and blending-screw components, blow molds, extrusion dies, CNC camshafts, multi-embossing roller, cylindrical shaft complexes, cam screw blocks, adjustable blow-molding dies, three-layer threaded output dies, and screws & barrels for experimental devices. The maker exports half of its output mostly to Japan, Southeast Asia, and the U.S.
Blaming the cheaper Japanese yen for the current downturn, Chen said that the lower yen seriously impacts Taiwanese suppliers globally due to diminishing price advantage against Japanese rivals, hence motivating international buyers to pick Japanese products for price-quality considerations.
Besides, Chen added, the cheaper yen also results in considerable exchange losses to Taiwanese suppliers who deal with orders from Japan, given that the yen has dived around 30% against the greenback over the past year.
Regardless of unfavorable situation, Ho Hsing has not only kept afloat in the first half but will very likely enjoy stable growth in the second half, mainly for devotion to continuous improvements on manufacturing technologies and skills, noted Tsai.
Following decades of technology research and development, Ho Hsing has become Taiwan's leading supplier of co-rotating twin screws by annual shipment with three factories, all ISO9001:2000 certified, and more than 50 machine tool models and over a half being computer-controlled, stated Tsai. He added that the maker can produce high-precision screws ranging in diameter 12mm to 200mm with exceptional quality, and help customers with troubleshooting during production.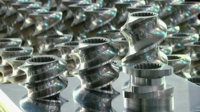 Ho Hsing supplies parts and components for plastic extruders and plastic injection molding machines.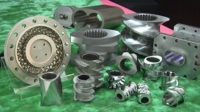 High Wear-resistance Screws and Barrels
Ho Hsing's technology advantage is also reflected in its high wear-resistance screws and barrels. Tsai indicated that his company has been dedicated to researching application of special steels in making high wear- and corrosion-resistance precision parts and components for years, which not only builds profile but also sustains growth in the second half of this year.
"With engineering plastic and composites increasingly applied by electronic and other high-tech industries, demand for higher wear-resistance mechanical parts and components shows huge growth potential, hence driving us to emphasize research and development of such products. To achieve the best quality, we import high-grade PM steel only from Switzerland, Germany and Japan," said Tsai. Furthermore, the company has hired Japanese high-profile industry experts experienced in screw and barrel production and nitriding technology to enhance technologies. Such efforts have obviously paid off as Tsai emphasized that his company's high wear-resistance co-rotating and counter-rotating twin screws are well recognized by Japanese customers as top-tier products in dimensional precision and durability.
Ho Hsing's competitiveness is based on technology. "We not only consistently introduce new technologies and advanced machines, including the 3D measuring instrument from Japan's Mitsutoyo and horizontal CNC machining centers from Mitsuui Seiki, but also focus on improving senior-to-newcomer knowledge transfer. A maker's technology can only be judged as zero or 100 per cent. So Ho Hsing spares no effort achieving the best technology," said Tsai.
While seeing steady shipment growth in Japan and Southeast Asia, the overseas sales general manager Chen mentioned that Ho Hsing is trying to further explore the European market, and will take part in K Trade Fair, a triennial exhibition for the global plastic and rubber machinery industry in Germany's Düsseldorf, from October 16 through 23 (booth 12A52-4).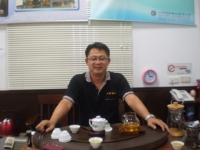 Yean Horng's general manager Gerry Chen has more than 20 years' experience in plastic extruders and extrusion lines.
Yean Horng
Only three years old with 12 workers, Yean Horng Machinery Co., Ltd.'s growth potential belies its youth as supplier of plastic extruders. Its general manager Gerry Chen confirmed that the company will hopefully achieve solid revenue growth this year that will surge next year mainly on well-honed technologies.
The company develops extruders and extrusion lines and related peripherals for different purposes, including calendar turnkey equipment, raw material conveying and weighting systems, high-speed mixers, cooling mixers, PP stationery sheet extrusion line, PP/PS sheet extrusion lines, PEVA embossing machine, EVA film making machines specifically for the photovoltaic industry, extrusion lamination machines, shredders, vertical cooling blenders, recycled plastics pelletizing machines. Over 80% of its machines go to East Asia as Japan and Malaysia.
A 20-some-year insider, Chen, former employee of the machinery division of Japan's Kodama Chemical Industry Co., Ltd. for six years, conceded to miserable performance this year for most of his peers. "Despite the traditional high season especially in September, many of extruder manufacturers that I know in Tainan are still seeing declining orders, which is due to the depreciating yen and global enterprises' unwillingness to invest in equipment amid global economic uncertainty."
Yean Horng is, however, impervious to recession, as Chen confirmed that the company is expected to maintain a 10%-plus revenue growth this year, after scoring a four-fold surge last year, and will almost surely further double, or even triple, revenue next year. "Our capacity is fully booked throughout 2014 with more orders backlogged. So we have been constructing our second plant that will be spread over nearly 3,000 square meters and scheduled to start up at the end of this year," said Chen.
Modestly attributing corporate success to luck, the easy-going owner said it is due to meeting customers' requirements, which is mainly driven by technologies that he and employees have together achieved.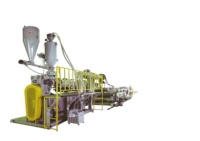 Among Yean Horng's hottest-sellers is the PP/PS Sheet Extrusion Line with improved die heads and air knives.
Well Proven Technology
One striking example of his company's sharpened technology is the individual unit developed for rear-end production of paper extruded from special material. "The order for the machine was shifted by a customer to us last year, as the original supplier lacked skills and technology to supply as required by the customer," noted Chen. Having proved its technological prowess, Yean Horng has won the customer's trust and orders for some 10 sets of the same machine this year to build solid growth momentum.
A Japanese company has placed a big order for an extrusion line this year after nearly three years of observation and strict examination.
"Backed by proven technology and ample know-how, we can independently develop PLCs and machine models according to customers' requirements and trial run them in-house as fully integrated production. We position ourselves as a solution provider and are especially proud of our industry-leading technology for developing weighing systems and die heads," said Chen.
Additionally, Chen also focuses on creating worker-friendliness in the company to enhance loyalty. "I see every worker as valuable asset and treat them respectfully and with care instead of being bossy. So I do the utmost to for staff well-being. In return, I hope they can better generate value for themselves and cultivate devotion to quality to make the company intrinsically stronger."
Echoing Ho Hsing president's comment that the application of engineering plastic is a growing trend in global manufacturing, Chen said that to survive in the increasingly challenging market and ride market trends, Taiwanese suppliers have to emphasize R&D to develop unique, competitive technologies.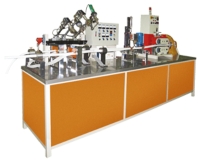 Poly Machine is Taiwan's leading plastic extrusion machines for foam materials.
Poly Machine
One maker who worked out Taiwan's first foam material and related machines and focuses on XPS (polystylene) foam plank making machines to show industry-leading technologies is Poly Machine Works Co., Ltd.
Poly Machine was founded in 1969 in Taipei City, northern Taiwan, as one of the most seasoned producers of laminators and EPS (expandable polystyrene) and EPE (expandable polyethylene) manufacturing machines in Taiwan, offering EPS and LDPE (low density polyethylene) sheet extrusion lines, EPE foam sheet extrusion lines, EPE tube and rod making machines, EPE foam net machines, EPS disposable container machines, laminating machines for food packaging materials, laminating machines for cement bags, heavy-duty laminators and other peripheral equipment.
The company has exported machines, some under own brand, to Japan, Canada, the U.S., Australia, New Zealand, Poland, Ukraine, Russia, and the Middle East and Latin America, according to Chang Jin-chiu, its general manager.

Poly Machine's Expanded XPS Plank Making Machine.
Chang indicated that the XPS board is waterproof, thermal-insulating and soundproof, a building material that also makes walls more shockproof, hence becoming increasingly popular worldwide, especially practical in northern latitudes and polar regions. To carve out market niche, the company has worked out a series of XPS board making machines to build a distinct profile in the industry in Taiwan.
Source:
http://www.cens.com/cens/html/en/news/news_inner_43326.html