U.S. specialty jewelry store sales slumped 5.8 percent year on year to $2.019 billion in March, reflecting the sixth consecutive monthly decline. Jewelry store sales during the first quarter of 2015 have fallen 5.6 percent to $6.266 billion.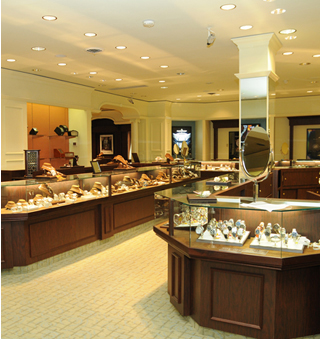 As reported earlier by Rapaport News, jewelry and watch sales across all channels fell 1.7 percent year on year to $5.386 billion in March, as estimated from preliminary government figures. According to Rapaport News calculations, jewelry sales dropped 1.5 percent to $4.756 billion, while sales of watches contracted 2.9 percent to $630 million during the month.
Advanced retail sales estimates for April failed to grow as well. Department store sales contracted 4.6 percent year on year to $12.492 billion, while total retail and food sales, excluding motor vehicles and parts, slipped 0.3 percent to $341.2 billion. Retail trade sales declined 0.1 percent. Nonstore retail sales in April were clearly a bright spot, rising 6.3 percent compared with one year earlier.
The National Retail Federation (NRF), which is usually delivers an upbeat prognosis on retail reports, contended that "sales disappointed in April," according to Jack Kleinhenz, the group's chief economist. "Sales were virtually unchanged, following an upwardly revised gain in March." Kleinhenz added that an earlier Easter did not play a major factor in igniting greater consumer spending as expected, either.
Nonetheless, he said, "Employment gains, wage and salary increases, greater savings and low gas prices will all factor into greater consumer spending the rest of the year."
Kleinhenz said, "It looks like there were more sales conducted at much lower prices. Consumers took advantage of the low cost of goods and merchandise. Consequently, flat retail sales numbers may not truly show the health or strength of consumer spending."
Improved retail sales in April for certain categories gave a boost to building material and garden equipment stores, rising 3.9 percent year on year; clothing and accessories stores sales improved 0.7 percent; furniture and home furnishings store sales rose 1.4 percent; health and personal care store sales rose 4.6 percent and sporting goods, hobby and book store sales increased 4.2 percent, according to the NRF. Sales declines were also measured for electronics and appliance stores, as well as general merchandise stores.
In a note to clients, Lindsey M. Piegza, the chief economist with Sterne Agee, confirmed that April's retail sales fell short "of even the very muted forecast of 0.2 percent, according to Bloomberg.
"March retail sales (on a month-to-month basis) were revised up slightly from 0.9 percent to 1.1 percent, still failing, however, to offset even half of the weakness of the prior three months. Recall retail sales were negative From December to February. Year-over-year, retail sales are up just 0.9 percent compared to a 4.7 percent annual pace this time last year," she wrote.

In addition, Sterne Agree reiterated its early contention that, despite what has been reported in the press, "any lingering claim that retail weakness at the start of the year was solely the result of unseasonably cold winter weather has now officially been squashed. Clearly the consumer remains under pressure resulting from fundamental weakness as opposed to Mother Nature, including lackluster job opportunities and minimal income growth," Piegza said.
Source:
http://www.diamonds.net/News/NewsItem.aspx?ArticleID=52283