Germany-based filling and packaging equipment manufacturer KHS has launched its new Innopouch K-400 pouching machine for the food and non-food industries.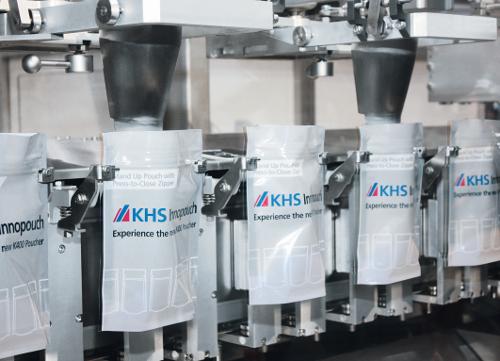 The new product is available as an FS (fill and seal) or an FFS (form, fill and seal) machine. The FS machine is supplied with prefabricated pouches from a pouch magazine, while the FFS machine makes and fills the pouches.
The FS version could be later expanded at any time to include a pouch forming unit, as it is modular.
Claimed to be capable to make or form stand-up, flat and bottom gusset pouches from film laminate, the system is said to run in both simplex (one pouch per machine cycle) and duplex (two pouches per machine cycle) operation.
KHS said, in simplex operation pouches can have a width of 125 to 400mm and a height varying between 125 and 380mm, while in duplex operation the maximum pouch width is reduced to 200mm.
The company further noted that the pouching machine, which could produce pouches of weight up to 2.3kg, can run at up to 70 cycles a minute.
KHS's Innopouch K-400 is said to be a horizontal pouching machine that operates cyclically, with a separate station for each stage in the pouch forming and filling processes.
The machine has been designed to fill pouches with various dry products from chunky goods including herbal candies and dry food for animals to finely ground powders, such as baking powder or ground coffee.
The standard version of the machine includes four filling stations connected in series which can be added to as required.
Source:
http://machineryandequipment.packaging-business-review.com/news/khs-launches-new-pouching-machine-for-food-and-non-food-industries-180414-4216620