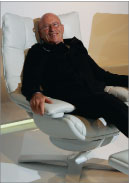 Pasquale Natuzzi sits in a Re-vive recliner, Natuzzi's performance movement chair introduction.HIGH POINT - It isn't often that a High Point Market showroom is completely silent, but on Friday night, it happened as a group of 150 dealers and invited guests escaped the hustle and bustle of early market to learn more about Re-vive, Natuzzi's first performance recliner.
Beginning with a mesmerizing show by aerial artists high above the crowd in the open, multistory gallery of the Natuzzi showroom and ending with an invitation to discover the product's unique qualities by trying out one of the chairs, the launch was dramatic, soothing and memorable - which company officials said was fitting for the official arrival of Re-vive. (Click here to see a video about the Re-Vive chair.)
"We started with a vision of comfort," Pasquale Natuzzi, chairman and CEO of the Natuzzi Group, said in a company statement.
"Recliner technology hadn't changed in the last 50 years, so we looked to nature for examples of strength, flexibility and multidimensional movement - like the tail of a lobster, the branch of a tree and the human spine. With that in mind, we designed the recliner to be able to distribute the weight of the body so it can balance in a neutral position."
Natuzzi collaborated with Formway, a New Zealand furniture design company, on Re-vive. There are more than 125 patents for the chair, and while it might be tempting for seasoned market veterans to dismiss the new introduction as a simple marketing initiative, that would be a mistake.
Re-vive really is that different.
Representatives from Furniture/Today were invited for a preview of Re-vive prior to the reception. The sleek, contemporary profile of the chair was the first design element of note, but the distinctive movement capabilities soon became the topic of discussion, and the reaction is exactly what Natuzzi officials expect in response to Re-vive.
"The human body is designed to move," said Kent Parker, head designer at Formway. "Re-vive responds to your body weight and mass with fluid motion."
Available in 10 colors, three styles and two sizes, queen and king, Re-vive is in the $2,500 price range. Company representatives said that while traditional recliners are operated with lever mechanisms, Re-vive "intuitively responds to movement," flexing in response to shifts in position and providing a "gentle dynamic rocking action" in lieu of manual adjustments.
Notable features of Re-vive include a weight compensating mechanism that provides balanced reclining motion, a live back with three flex movements (twist, lumbar and recline), a high-density core that evenly distributes weight, dynamic arms that mimic movement and slide as the position changes between upright and recline, a rock-lock lever that holds a position, a swivel base that allows 360 degree movement, a tilting ottoman and an optional sliding headrest.
Company officials said the customization options provide retailers with a comfort and design story for consumers.
"The Re-vive recliner combines New Zealand innovation with Italian style to bring a completely new offering to the home furniture market," Natuzzi said. "This is truly a new movement in comfort."
Source:
http://www.furnituretoday.com/article/568499-Natuzzi_s_Re_Vive_recliner_comes_alive_at_High_Point_Market.php