After the launch of 60W~120W AGLAIA-12AC Bay Light series products, which was widely well received across the market, in February 2013, Alliance Optotek Corp. (AOP) specifically focused on high ceiling large space industrial lighting application and further launched higher power AGLAIA-12AC High-Bay Light series products which offer a more comprehensive solution to global illumination on shopping floor, factory or warehouse.
Styles of the newly launched High Bay Light series products inherit the same black and silver colors which are the same for previous AGLAIA-12AC series products, and these colors demonstrate a simple and tough style. This launch presents a total of three tiers of 180W、240W and 300W products with luminaire efficiency all reaching 102 lm/W. Specifically developed optical lens allows customers to select open lighting or aisle lighting according to the lighting needs from each individual location. Overall, specifications for these products completely surpass all terms, which include lighting fixture output, efficiency, luminous distribution and luminous decay, on High-Bay-Lighting stipulated by DLC (Design Lights Consortium) in North America.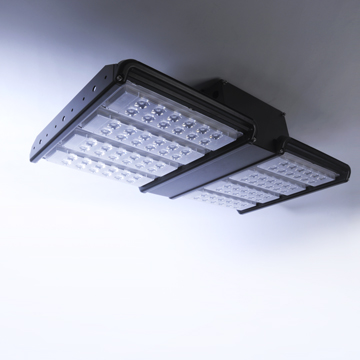 AOP launches 300W high power high bay light. (LEDinside/AOP)
Take AGLAIA-12AC 240W High Bay Light for example. This light actually consumes 236W with an output of 24,000 Lumen. Under the optimal combination of efficiency and luminous distribution, this product is fully capable of replacing conventional 400W metal halide lamp. Furthermore, from the long term perspective, the complexity and continuous costs incurred from conventional High-Bay Light bulb replacing operations can also be spared.
In addition to the newly launched High-Bay Light product, products for the AGLAIA-12AC series also include Bay Light, Flood Light and Billboard Light. These products have all received CE, PSE and FCC certifications and passed IK10 test which is the highest test rank for impact test.
Source:
http://www.ledinside.com/node/18742