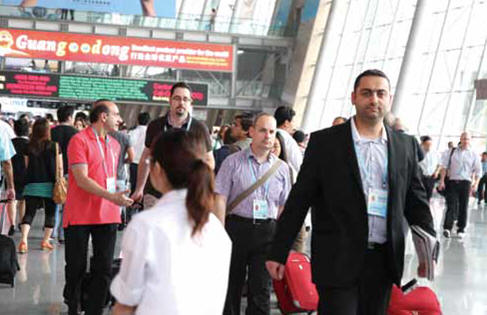 Canton Fair has reached new attendance peak in 2012 No doubt, the Canton Fair with its ever expanding exhibition buildings and numbers of visitors is an impressive event. Yet the ever growing exhibition space and amount of suppliers makes a careful trade fair planning indispensable. Coming to a trade fair in China is still connected with considerable expenses and some degree of stress. By spending time and money for such a trip, purchasers want to make sure to get the best out of their visit. Preparation is indispensable
Targets: The first move to an efficient trade fair visit has to be done before coming to China. Set yourself a target. What do you want to achieve with your trip to China? Which suppliers do you want to see? Which products do you want to source and which information do you want to collect?
What do you want to discuss? Which negotiations can be better done personally in China and how can you lead them efficiently in the available time? The clearer the targets are, the clearer the results will be.
Further considerations: Most purchasers will know how di_ cult it is to lead meaningful conversations at a booth which last for more than a short moment. This has several reasons. Firstly, many stands are crammed with visitors, especially during the peak times of the day. It is a common picture to see exhibitors running from one corner of the booth to the other to serve newly arriving visitors. Another, not less common picture are visitors struggling to get the attention of sales managers. Too many of them seem to be always busy in discussions with other purchasers. A rather annoying experience are finally fellow traders who try to push other visitors aside or intrude into conversations you lead with sales managers to grab their attention. In order to avoid or at least minimize the chance of facing such situations, mind your time planning.
Timing: The mass of visitors will arrive during the first and second day of the fair. Various trade fair statistics show that the time of about 1.7 days is being spent at a trade fair by a common visitor. At the Canton Fair the rate may be a bit higher. The mass of visitors will arrive after 11:00 am and the stands are usually most visited after lunch time until late noon time. Visitors coming to the trade fair before 11:00 avoid the peak time and hassle of overcrowded stands. Arriving early will enhance the chance of leading negotiations for more than 3 minutes.
Take into consideration the departure time from the Canton Fair. I f your schedule allows, do not wait until the Canton Fair closes down. Public transportation system and streets are extremely overcrowded at this time. To be trapped in these masses of people is not the most pleasant experience of a trip to China.
Get a rough overview: Do visit the official website of the Canton Fair and check where your suppliers have set up their booth. In case of some products and industries, the related suppliers are very scattered over different buildings. Even with a good sense of orientation many visitors find themselves soon lost in the confusing labyrinth of halls and buildings of the Canton Fair.
This applies especially to the case of sourcing totally new products.
Do your homework. Check the location of the places you want to visit. Make a decision about the type and number of suppliers you want to see at one day. Do not exaggerate.
Too many booth visits are counterproductive and will only make you feeling exhausted at the end of the day. Make your plans feasible without superhuman effort and be sure they can be achieved.
Announce your visit: You may be invited by a supplier to visit his booth or not. In the case of meeting existing suppliers it is advisable to announce your visit.
This will give a higher degree of importance to your meeting. If you have to settle business issues of importance, make sure the suitable person will be available at the booth. You may need more information about specific products or you want to discuss technical questions. Make sure a competent person is available at the booth.
As a purchaser you want to speak to a person with knowledge who is able to communicate the information you need in decent English. Unfortunately most exhibitors at the Canton Fair do not train their staproperly before the fair, so better prepare them for the negotiations you want to lead.
Certificates & regulations: Know the product regulations of your home market and make proper research on it before coming to China. Many suppliers do not give reliable information regarding international quality standards. Some try to cheat with certificates and others have no clue at all. You may for example ask a mobile phone supplier if CE, RoHS, FCC, or UL is available and receive the answer is "Of course. And WIFI is also available". Such incidents really happen at the Canton Fair, so be attentive in terms of certifications.
Do research before arrival: If purchasers are being asked about their main target at the trade fair, a common answer is "I am here to compare prices". But is it necessary to travel to China only to compare prices? The clear answer is no. The general price level of most products can be checked easily at home. Log on a B2B-platform such as Made-in-China.com and get into contact with existing or potential suppliers. Soon you will get a rough idea about the prices in all kind of industries. That's certainly more convenient than running through the vast gangways of the Canton Fair and asking for a price here and there. Another option is to check the exhibitor list of the official website of the Canton Fair. Contact suppliers which exhibited at the last session and/or will exhibit at the next one. Some mouse-clicks will give you an overview about a variety of product groups and suppliers. Have a first look to the supplier's websites. Some basic business experience given, the sheer arrangement of a supplier's internet appearance will tell you a lot about this company. In many cases the website of a supplier reveals more about his professionalism than his booth at the fair. Finally, get into first contact with such a Canton Fair exhibitor by email. Do not only pay attention to his price list, but also observe the way he communicates with you through email or telephone. Is this communication smooth or rather tiresome? Based on your observation you may decide to visit the booth of such a supplier at the Canton Fair later on – or not.
Factory visits: A trade fair visit in China will regularly include one or more factory visits. Once again: only a proper preparation will make such a visit meaningful. This especially applies to visits of new potential suppliers. Make sure what has to be discussed and what you want to see at the factory. Confirm that a sales manager will be available who is willing to negotiate with you instead of merely opening the door to the show room and reading item numbers and prices from a list. Confirm the basic features of the factory such as general price level, production capacities, quality standards, existing certificates etc. Missing to check out such key points in advance could make some trips to far-away located factories a pure waste of time.
On the ground – your attendance at the trade fair
Booth impression: Having once reached the Canton
Fair, purchasers will try to get a more precise impression of existing or potential suppliers. This will start with the assessment of the general booth arrangement. Does it look professional? Is the exhibitor a manufacturer of a trading company? Many purchasers will tend to favor manufacturers, but certainly not all. There are remarkably sophisticated trading companies amongst the Canton Fair's exhibitors.
Their broad range of products is amazing, their delivery times are quick, their MOQ fantastically low and their prices surprisingly competitive. Nevertheless some trading companies have to be examined carefully. A 15 square meter booth where LED-lamps are presented next to stationary and toilet brushes should cause some first suspicion. If the sales manager at such a stand explains to you in broken English "we are factory", you can be sure he is nothing else than a kind of agent for several factories.
Without hesitation such sales managers will hand out catalogues of different manufacturers. Check the company name on his business card and compare it to the name displayed above the booth – mostly these are two different names. That's the typical case of a small trading company unable to gain access to the Canton Fair on its own. The stand was bought from an authorized company in this case.
Personal impression: What distinguishes a trade fair most from other forms of entering into contact with suppliers is the direct face-to-face contact. B2B has been and will always be based to a high degree on personal trust. Impressions about persons are a key point when it comes to the decision-making about entering into business. Saying this, the attitude, communication skills, product knowledge and general professionalism of a supplier's sales manager should be well observed at the trade fair.
As a purchaser, it is not less important to leave an impression yourself. Speak about capabilities and qualities of your company. Convince the supplier of being a strong potential distributor of his product. Remember: "You only once get the chance to make a first impression."
Direct communication: "What's your order quantity?"
One of the first questions a purchaser will be asked. You may not be able to order big quantities, but this should be better discussed at a later stage. Mentioning a low order quantity at the very beginning may lead to a direct lack of interest in further negotiations on the side of the supplier. Due to low prices, most Chinese exporters depend on big order quantities, be aware of it.
When it comes to price negotiations another frequently asked question will be "What's your target price?" Some purchasers are tempted to play back the ball by calling a ridiculously low price and checking the supplier's reaction. Is this a good idea? Rather not unless you enjoy price-poker games. Before going to a trade fair, a serious supplier should have revised his prices thoroughly and not hold back to speak them out. It is the sign of a quality supplier to act in this way. A purchaser mentioning a very low target price may encourage a savvy supplier to cut in costs by saving on quality material only to open up business. By revealing his target price, the purchaser finally gives up his advantage of getting a first impression of a supplier's real profit expectations.
Think twice before calling target prices.
ntelligent questioning: Attending a fair is a powerful tool of doing market research and getting more information about products, industries, suppliers and innovations. However, purchasers can not expect that news will be carried to them out of the blue. Purchasers have to become proactive by themselves. The key point is intelligent questioning.
Suppliers have to be asked for technical support, distribution support and marketing support. Purchasers have to ask directly, which kind of special cooperation a supplier can offer, may it be an agentagreement or other stipulations. Suppliers have to be asked for product innovations, which are frequently not being exposed at the Canton Fair due to the fear of copying competitors. Purchasers have to ask for concrete references or experiences of the supplier on specific markets. They furthermore have to ask for quality control methods in the factory.
Even a brief chat with fellow traders at a coffee bar about impressions and experiences at the fair can bring valuable news.
According to trade fair statistics, only 10% of all visitors place orders directly at trade fairs. The overwhelming amount of visitors attending a trade fair focuses on collecting information, observing new market trends and leading negotiations with existing or potential suppliers. Hence, trade fairs are all about communication and observation. For the attentive purchaser willing to communicate properly, a trade fair will always yield benefits beyond the mere comparison of prices.
After the fair
Selection: After the fair the amount of suppliers will reduce itself automatically soon. Some suppliers won't even answer after being contacted several times by a purchaser and disappear into the nowhere.
Surprisingly this is not only the case with tiny companies. Others will answer, but be uninteresting in terms of price and service. Some will be eager to go into deeper negotiation and show genuine enthusiasm during the ongoing sales-process. These are mostly those sales-managers who have left a positive personal impression at the fair. In any case the purchaser who has made proper preparations before and clever observations during the fair will already have a clear picture of the attractive candidates and focus on further negotiations with them.
Way to the order: The bigger the order, the more careful the revision should be. Most purchasers will demand samples _ rst, which is essential. However, the most perfect sample does not guarantee the faultlessness of the products of the mass production.
A supplier possessing decent references and experience on your market should already guarantee some basic capability. How about other suppliers with low prices, but no experience on your market? They may have unbeatable prices, but can you trust them? A very careful inspection of such companies and the permanent control of the production process are indispensable in such cases. This can only be achieved through direct controlling and inspection in China. Companies like FECOS Co., Ltd. offer efficient business assistance on the Chinese market.