On December 8th, Microsoft announced cooperation with Qualcomm in WinHEC conference: snapdragon processor can run Windows complete 10 operating system. This also means that the mobile phone manufacturers want to cross-border PC market, the opportunity to.
It is understood that the new Windows snapdragon processor 10 PC will be able to support x86 Win32 and general Windows application. The WinHEC conference site with engineering machine demonstration including Photoshop, Microsoft Office office suite and Windows 10 games in the running effect of Xiaolong platform.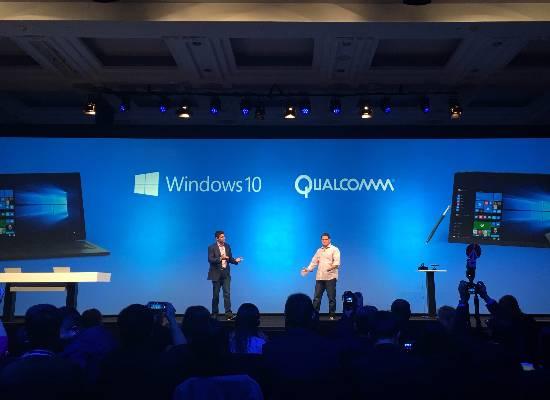 Qualcomm executive vice president Cristiano Amon said in an interview, the firstPC batch equipped Xiaolong 835 processor is expected early next year listed.
Qualcomm snapdragon 835 is the latest generation of the flagship chip 800 series, although not yet announced specific specifications, but from the previous news, Xiaolong 835 will use Samsung 10nm process, better performance at the same time, will also have a lower power consumption. At the same time, because of the smaller packaging process, we can infer that this processor also let the appearance of more slim PC products become possible.
According to amon said, adding 10 Win snapdragon processor PC camp, will bring the Gigabit LTE connection, advanced multimedia support, machine learning and excellent hardware security features, but also support the design of thin, non fan type and long battery life.
In addition, the ecological system is fully compatible with Win 10, Qualcomm snapdragon platform will support cloud computing, mobility, and redefine the way people use computing terminal.
For mobile phone manufacturers, this is actually a good news, especially want to cross the PC market.After HUAWEI launched a combo designed MateBook, millet also launched a notebook products. Amon believes that with snapdragon chip has good technology accumulation of mobile phone manufacturers, the Qualcomm and Microsoft cooperation, opened a door for them to enter the PC market, is a new growth opportunities.
In addition, Qualcomm also revealed that, in addition to the existing 800 Series flagship chip, the future is also likely to launch other higher performance products. It is understood that, because they have seen the future of PC and mobile terminal products to accelerate the integration trend, Qualcomm and Microsoft began to discuss this cooperation 2 years ago.
Microsoft said in an interview after the meeting, although Qualcomm is a new addition, but can provide a good mobile cellular network, and in the display effect, life and other aspects also have the advantage.Intel does, advantage in pronunciation and other aspects of the game more, two each one has his good points.
As for how to balance between the two partners, Microsoft does not seem to worry, said Shenzhen OEM partners according to their own needs to choose a chip.
In addition, Qualcomm also revealed that the Surface series would use snapdragon processor, also depends on the choice of Microsoft.
Would you buy a snapdragon chip PC?
Source:
http://www.bestchinanews.com/Science-Technology/7428.html