U.S. jewelry and watch sales from all retail outlets in September increased 3 percent year on year to $5.521 billion, according to preliminary government figures. As is often the case, the sector's totals for previous months were revised, with the rates of growth for both July and August -- while still healthy -- being lowered slightly.
Jewelry and watch sales improved by 4 percent in July and August, down from an earlier estimate of 5 percent, and total sales for each month approached $5.6 billion, representing no real month-to-month change between June and September.
Jewelry sales in September increased a solid 3 percent year on year to $4.858 billion, according to Rapaport News estimates but the improvement was the slowest rate of growth since April. However, the U.S. consumer price index (CPI) for jewelry fell 3.8 percent in September. (The story continues after the chart.)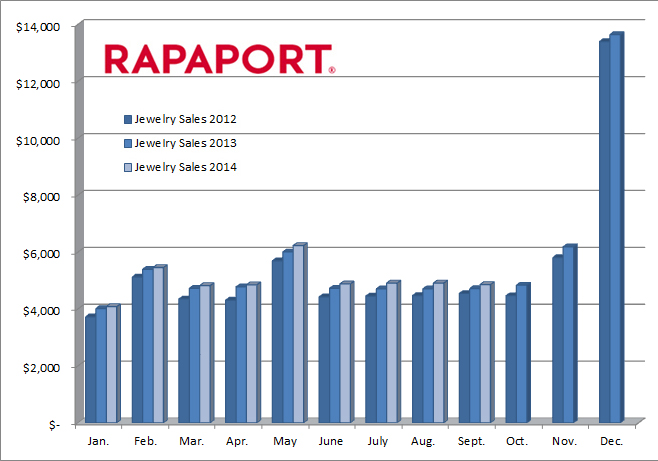 Watch sales rose 2.8 percent in September to $662 million, which was also the weakest rate of growth since April. However, the CPI for watches rose 1.9 percent during the month to its highest index reading since November 1997.
Jewelry and watch sales for the first nine months of the year have risen 2.8 percent to $51.129 billion, according to preliminary figures. Jewelry sales were up 2.7 percent to $44.994 billion, while watch sales increased 3.4 percent to $6.136 billion, as calculated by Rapaport News. (The story continues after the chart.)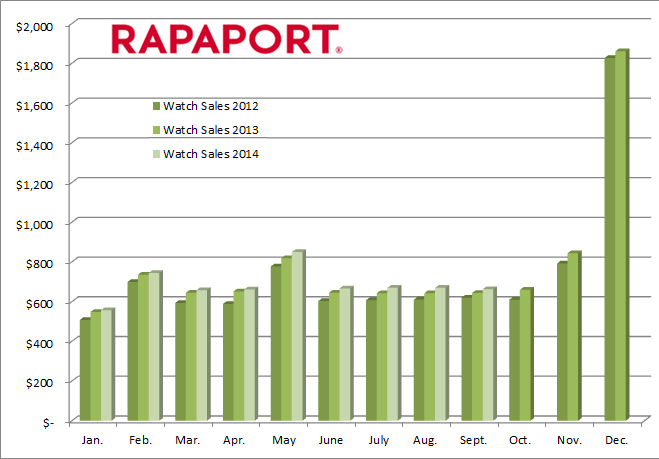 Specialty jewelry store sales, which are tracked separately, have performed slightly better than the sector as a whole, with sales increasing 4.5 percent during the first eight months of the year to $20.13 billion.
Lindsey M. Piegza, the chief economist at Sterne Agee, noted that consumer actions at the retail counter were mixed in September. Personal income rose 0.2 percent (month to month), the slowest monthly increase since December 2013, but "even a minimal increase in wage growth is a sign of welcome improvement in the labor market," Piegza wrote in a note to clients.
Looking at chain-store sales in the month of September, results on a same-store basis were relatively close to the jewelry sector, increasing 5 percent year on year, as compiled by the International Council of Shopping Centers (ICSC).
Jesse Tron, ICSC's spokesman, said,retailers, by in large, enjoyed a stronger month overall compared with August. The overall strength in economic conditions has been driving stronger consumer demand of late, a good sign as we progress into the holiday shopping season."
With the Christmas gift-hunting season upon us, Sterne Agee noted that the University of Michigan Consumer Confidence Index rose from 84.6 points in September to 86.9 in the final October reading, the highest in seven years, and that consumers were generally shrugging off sensational headlines about Ebola and ISIS, which -- if that trend holds -- signals that consumers will focus on the all important holiday season.
"Still, we caution the use of the consumer confidence index as a proxy for consumers' willingness to amply spend on goods and services in the near term. The correlation between what consumers say and what consumers do remains an increasingly unfettered relationship," Piegza noted.
ICSC, meanwhile, is anticipating that chain-stores should experience a sales increase of about 4 percent for the whole Christmas season, which the group defines as the period November 1 through December 31.
Source:
http://www.diamonds.net/News/NewsItem.aspx?ArticleID=48413