As demand for the traditional 18650 cylinder battery has been growing strong recently because of increasing notebook sales, upstream battery module makers have started asking for a double-digit percentage quote raise. Since most lithium battery makers have no plans to expand their notebook battery production capacity, shortages are unlikely to be resolved in the short term.
Because of rising demand for lithium batteries from the electric vehicle (EV) industry, battery makers have been reducing their supply for the notebook industry.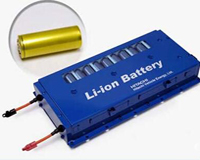 In addition to the 18650 cylinder battery, the lithium polymer battery, which is commonly used in ultra-thin notebook models, is also suffering from shortages as many vendors including Apple, Acer and Asustek Computer, have all scheduled to released new ultra-thin notebooks models in the near future.
Commenting on the shortages, Simplo Technology chairman Raymond Sung pointed out that the company's clients have all seen increased proportions of supply from Simplo and have been a close watch on the supply. Since Simplo has already prepared inventory ahead of time, the company will not see any supply issues and expects its fourth-quarter sales to perform better than expected.
Some market watchers originally expected Simplo's fourth-quarter revenues to grow 15% sequentially, but the forecasts are likely to be raised later.
Source:
http://www.digitimes.com/news/a20160927PD202.html