Coatings and chemicals producer AkzoNobel has commissioned a new production facility for packaging inks in Songjiang, China.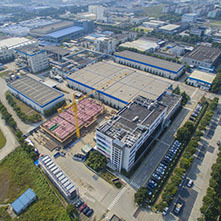 The new facility, located at the firm's biggest site used for developing packaging coatings worldwide, will produce inks that are used for beverage and can packaging.
AkzoNobel Asia metal coatings director Chen Bin said: "This new facility will establish AkzoNobel as a local supplier of inks in China and strengthen our position in the local packaging market.
"It also means that we now have local production of the complete external coatings system."
The move follows capacity expansion at the Songjiang site last year which currently has around 300 employees and includes the company's largest research and development center in the country.
AkzoNobel Metal Coatings managing director AB Ghosh said: "We are very pleased to have started local production of inks at Songjiang.
"It will help us to better serve customers in what is one of our most important markets."
The firm is claimed to be one of the leading global suppliers for coatings used in the beverage and can packaging industries.
Chinese beverage and can packaging suppliers majorly use AkzoNobel's technology for two-piece retort can systems as their external system for metal packaging.
Earlier this month, the company unveiled a new $10m research, development and innovation (RD&I) center at Strongsville in the US state of Ohio.
The facility, with full testing and analytical capabilities, is expected to help promote the firm's performance coatings businesses, including coil, extrusion and packaging coatings.
AkzoNobel had recently announced that it is investing around $3.4m in the expansion of its RD&I capabilities in Houston, Texas.
Source:
http://packagingmaterials.packaging-business-review.com/news/akzonobel-commissions-packaging-inks-plant-in-china-181215-4757138