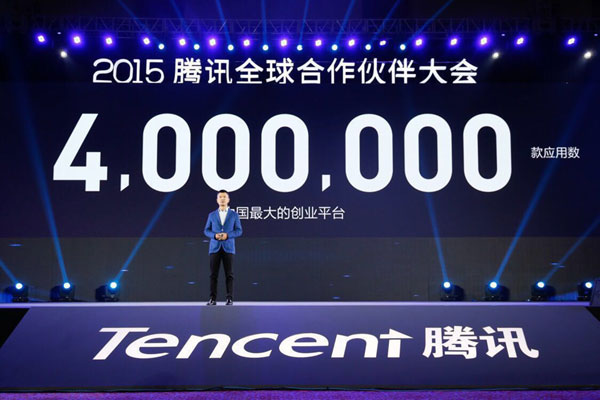 It's been about half a year since the idea of Internet Plus Strategy was raised by Chinese Premier Li Keqiang. The strategy is an action plan to integrate the mobile Internet, cloud computing, big data and the Internet of Things with modern manufacturing.It is regarded as a new impetus to the Chinese economy, which experienced a slowdown and targeted at a lower growth.
Both the private and public sectors in China have found their own roadmaps under this big framework.
Gao Xinmin, Vice Executive Director of Internet Society of China,says that the strategy implies deeper integration between the Internet and almost any industry in the social and economic fields. The Internet is the infrastructure of development and the source of innovation, encouraging all players to be open-minded, innovative and connected.
A group of players that has been doing this is the Internet giants in China. Tencent, one of the country's largest Internet service providers, now has more than 4 million applications on its open platform, which acts as a bridge between developers and users. Those who developed the most popular applications become rich by well satisfying the demand of millions of users. From this perspective, the Internet Plus Strategy and practice can create value, stabilize employment and improve social efficiency.
Ren Yuxin, Chief Operating Officer of Tencent, explains three trends that would better reflect the strategy in the future. Ren says at Tencent Global Partner Conference held this week that the first trend is a more segmented Internet market, with very deep insight and service in a very small category of the market. For example in the fitness mobile application category, one app may focus on teaching people how to do exercise, another may give advice on healthy diet, and one perhaps encourages users to share progress in their social media circles. The second trend is that further personalized service would be welcomed. E-commerce companies selling fruit will give suggestions on consumers' purchase of fruit according to their physical conditions and nutrition needs. The final foreseeable trend is about human resources. Those who understand both the traditional and emerging industries will be very popular.
The role that the Internet corporations play is connecting all the resources, which include financial resources, human resources and skills resources,according to Lin Songtao, Vice President of Tencent. Lin says their online and offline support is ready for business starters and players in the Internet industry, with the final aim to achieve upgrading in consuming and producing.
In the public sector, regional governments actively move forward with the wave of the Internet Plus Strategy.
Chongqing is the youngest and biggest municipality in China. According to Weng Jieming, Deputy Mayor of Chongqing, the city, as a hub for economic development in the western part of the country, uses the Internet technology and develops its own Internet eco-system.
For example, with a sound basis of manufacturing, Chongqing builds itself into a fast-growing production base for intelligent terminals. From January to September this year , Chongqing's total value of electronic manufacturing reached 300 billion yuan, and its output of LCD (liquid crystal display) increased by 10 times compared with that of the same period last year. Meanwhile, Chongqing further develops its cloud computing by attracting telecommunication giants like China Unicom, China Mobile and Zhongguancun to set up their data centers in Chongqing Liangjiang International Data Industrial Park. It is expected that next year in the industrial park, 300,000 servers will be operating to analyze data in Chongqing and nearby regions. Cross-border e-commerce and Internet-related starting businesses are booming as well.
The Internet technology and service has been developing in China for more than two decades. Internet Plus Strategy is not only for the industry purely, but also for the new models of economic development of the entire country. The role of the Internet, which was consuming, now changes to a combination of consuming and producing.While providing service to consumers, the Internet also provides support to enterprises who want to achieve upgrading and innovation.
Source:
http://english.cri.cn/12394/2015/10/23/2821s900873.htm