In an exclusive interview with LEDinside, MLS General Manager Lawrence Lin discussed in-depth the company's ongoing talks with German LED company Osram to acquire its lighting business at Taipei Building Show organized by Dollar International Industry earlier today.
MLS or also known as Forest Lighting announced its interest in acquiring Osram's LED lighting business in early November this year, nearly seven months after the German lighting giant revealed its plans of spinning off its traditional and LED luminaire and lighting business. Chinese LED manufacturers MLS and Shanghai Felio Acoustics have both stated interest in acquiring Osram's general lighting business.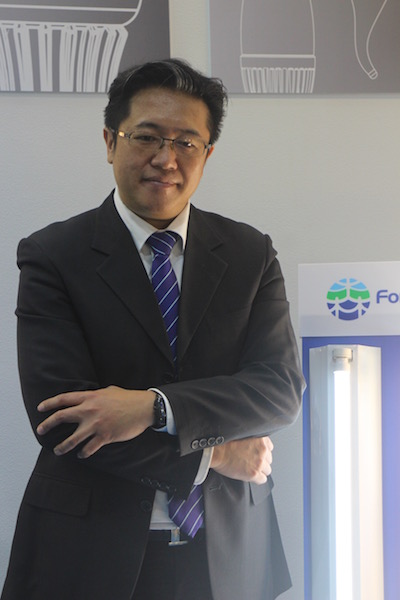 MLS General Manager Lawrence Lin. (All photos courtesy of LEDinside)
Lin pointed out MLS and Osram were still discussing the acquisition details, and declined to reveal financial details. If MLS successfully acquires Osram it will be able to acquire the German company's distribution channels in North America and European markets, and diversify its marketing strategy.
"We will keep the Osram brand name if we acquire its lighting business," said Lin. "MLS and Osram brand lighting products would co-exist, with the MLS brand targeting the Chinese market and Osram brand positioned in international markets."
The Chinese brand has a strong market position in China, mainly due to its affordable solutions and large market share. However, in international markets Osram has the biggest distribution channel the U.S. and has the second largest distribution network EU, explained Lin.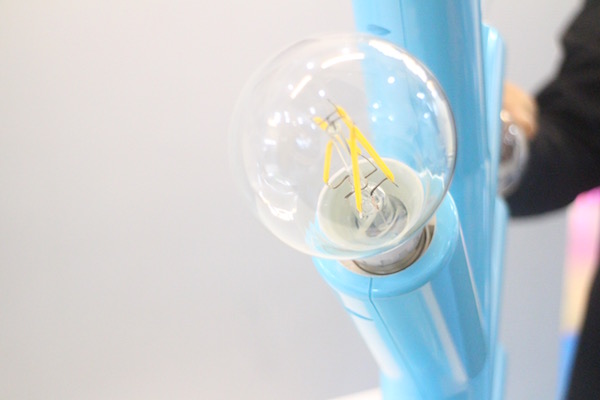 MLS showcased filament LED bulbs that the company General Manager Lawrence Lin believes will become a hot commodity in 2016.
Aside from expanding its distribution channels, the Chinese manufacturer, which also specializes in LED packaging hoped the merge deal would also create opportunities to collaborate with the German company's LED component business, Osram Opto.
"We hope to be able to collaborate with Osram Opto in LED chip and wafer technology", said Lin. "If we can successfully acquire Osram's lighting business, we will be able integrate a comprehensive supply chain from LED chips down to end products. The deal would involve both horizontal and vertical integration."
Cooperation in the upstream sector will become increasingly important for the LED manufacturer that has continued to scale up its LED package production, and is now looking into other application sectors other than lighting. The Chinese manufacturer intends to nearly double its LED package production capacity from 23 billion pieces per month at the moment to 50 billion pieces by 2016. The company will be scaling up its production capacity through several phase, with the first target at the end of this month 350 billion pieces.
If the deal goes smoothly, MLS should be able to complete acquisition talks with Osram by second quarter of 2016, said Lin.
So what will Osram get in exchange by selling its lighting business to MLS? Lin noted MLS could assist Osram in reaching its profitability goals by using its expertise in affordable lighting solutions to help the company slim down production costs. "If you look at Osram's recent strategies, it mostly has to do with making the company more agile and flexible," analysed Lin.
"Osram or Philips traditional lighting business revenue has declined," he went on. "From a LED lamp installed base volume perspective, these big lighting players LED turnover rates are in decline."
The LED lighting industry has disrupted traditional lighting R&D cycles, innovation of new products are occurring at a sped up pace. Lighting product life cycles have significantly shortened from three to four years, down to six months to an year. "Traditional lighting companies have found it much more difficult to adapt to these changes," said Lin. Yet, MLS has been doing fairly well in providing affordable and suitable lighting solutions to clients.
At MLS booth at the 2015 Taipei Building Show in Nangang Exhibition Hall, the company showcased its dimmable and color tunable LED ceiling lights, which have been in high demand this year. The lights control are built into switches. Lin also highlighted the company's filament LED bulbs, are the best product choice when it comes to omnidirectional lighting. The bulbs are the most affordable omnidirectional lights, and are less costly to produce, he said. The 2015 Taipei Building Show will run from Dec. 10-Dec. 12, 2015 at Nangang Exhibition Hall and the Taipei World Trade Center Hall 1.
Source:
http://www.ledinside.com/news/2015/12/mls_aims_to_do_more_than_expand_distribution_channels_by_acquiring_osrams_lighting