Two giant main bearings and related technologies for Caesars Entertainment Corp.'s High Roller observation wheel are being supplied by SKF. Eclipsing the famed 443-ft-tall London Eye, the 550-ft-tall High Roller is expected to soar above the heart of the world-famous Las Vegas Strip in late 2013. It will be equipped with two SKF spherical roller bearings that will be the largest ever produced at the SKF manufacturing facility in Gothenburg, Sweden.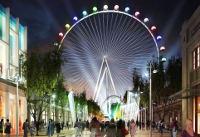 The two custom-designed spherical roller bearings, one within each side, will be virtually unprecedented in weight and size: each bearing will weigh approximately 8,800 kg and be designed with 2,300 mm outer diameter, 1,600 mm inner diameter, and width of 630 mm. Specially engineered features include W26 lubrication holes in the inner ring, SKF NoWear®-coated rollers, and PTFE coating in the bore. In addition, SKF will incorporate advanced lubrication, sealing, and online condition-monitoring systems and take the lead in monitoring the bearings once the wheel is up and running.
Big-Wheel Expertise
The Las Vegas High Roller turns out to be the latest SKF big-wheel project in a growing portfolio of expertise. The Navy Pier® Ferris wheel in Chicago also operates with two SKF spherical roller bearings, and SKF Reliability Systems retains responsibility for ongoing proactive maintenance programs.
American Bridge Co. (Coraopolis, PA), which is responsible for constructing the 143 m-diameter tension wheel, awarded the contract. In addition to the two SKF bearing assemblies, the structure will consist of 4 steel support legs, a single braced leg, fixed spindle, rotating hub, 2 m-diameter tubular rim, and 112 locked coil cable assemblies as spokes.?The High Roller is the centerpiece of The LINQ, a planned $550 million, open-air retail, dining, and entertainment district situated between Imperial Palace and Flamingo Las Vegas. Each of the wheel's 28 supersize cabins (which themselves will revolve) will accommodate up to 40 people during a 30-minute ride.
Source:
http://www.ien.com/article/las-vegas-high/176804