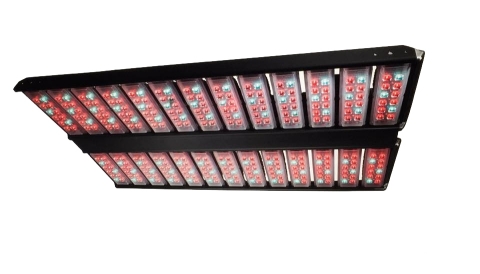 Lighting ScienceGroup Corporation (OTCQB: LSCG), a leading global manufacturer of innovative LED lighting solutions, today announced the launch of its next-generation VividGro™ V2 LED Grow Fixtures, featuring state-of-the-art spectral technologies and industry leading efficiency. This proprietary combination delivers one of the most effective LED grow fixtures in the horticulture industry. The VividGro™ V2 fixture is suitable for both commercial growers and the do-it-yourself horticulturalists across a wide range of applications, and has produced remarkable results in commercial indoor growing facilities, greenhouses and the fast-growing cannabis industry.
"The introduction of the new VividGro™ V2 fixture represents the next step in growth for the agriculture and horticulture markets," said Fred Maxik, Founder and Chief Technology Officer at Lighting Science Group. "Set to replace the industry-standard 1000W HID replacement fixture, at just 588W, the V2's proprietary optimized spectrum is revolutionary for optimized plant growth and human vision."
The VividGro™ V2's performance-engineered, broad color spectrum can significantly stimulate plant growth while drastically reducing energy consumption by utilizing specific lighting wavelengths - at 450 and 660 nanometers. The V2 Fixture has a rated life of 60,000 hours (L70), far longer than conventional high-pressure sodium (HPS) or other HID lamps, and significantly more than the life of many competing LED fixtures. Since VividGro™ V2 uses only 588 watts, far less energy than standard HPS fixtures, which typically use 1000 watts, the energy savings are dramatic. LSG's unique design delivers optimal photosynthetic active radiation of 1081 umol/sec at center beam and fixture efficiency at 1.838 umol/J. The VividGro™ V2 fixture has an "instant on" feature, can be cycled to maximize healthy plant growth and employs passive cooling, making it completely silent. The V2 fixture is IP65 rated for safe operation in wet and damp environments, and is also backed by a 5-year limited warranty to ensure trouble-free performance.
"Plants are all about photosynthesis, and LEDs offer an unrivaled source of optimized solid state lighting that's used to fuel plant cultivation and propagation. The nurturing of plants in an indoor environment, supported by LED light, helps to control many of the elements influencing the growth of the plant," said Randy Mortensen, leader of the Agricultural Business Unit at Lighting Science Group. "With our proprietary VividGro™ technology, the spectral output of the light can be tuned to a particular species of plant, delivering optimal plant growth and energy efficiencies. As the urban population centers continue to flourish and higher demand is placed on growth of specific plants, such as in the cannabis industry, indoor horticulture will require more quality, energy efficient lighting, like that provided by our VividGro™ V2 LED Grow fixture."
The VividGro™ V2 LED Fixture features unmatched reliability and provides industry leading flexibility for growers, proving this resilient and superior performing LED grow solution is a safe, powerful and green alternative to traditional horticultural lighting.
About Lighting Science Group Corporation
Lighting Science Group Corporation (OTCQB:LSCG) is a global leader in innovative LED lighting solutions that designs, manufactures and brings to market advanced, intelligent products for consumer and commercial applications. We are committed to using the science of light to improve the lives and health of people and our planet by inventing breakthrough, biologically-friendly LED lamps and lighting fixtures. Lighting Science Group is headquartered in Melbourne, Florida with international offices in Hong Kong.
Source:
http://www.ledinside.com/products/2015/7/lighting_science_unveils_new_led_grow_light_fixture