At this year's Techtextil to be held in Germany, Allma, part of Saurer Group, will focus on the TechnoCorder TC2 with interesting developments in FlexiPly and the new 830 mm spindle gauge at Stand D-02 in Hall 3.0.
Allma will demonstrate the TechnoCorder TC2, featuring the new FlexiPly facilities and the larger spindle gauge for processing coarse titers.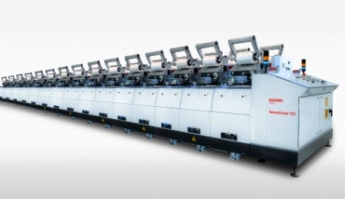 "For several decades, Allma has been a leading company in cabling and twisting of tire cords and industrial yarns as an innovation partner of industrial companies," it said in a press release.
The Allma two-for-one double twisting machine; TechnoCorder TC2 for industrial yarns is characterised in particular by its high flexibility.
Self-sufficient spindle technology enables individual settings for each spindle and the separate spindle drives are set via integrated IPC at the control cabinet.
FlexiPly enables the creation of new hybrid constructions, since innovative hybrid yarns are used for industrial textiles with new properties.
"Hybrid yarns can be used in tire production or mechanical rubber goods and hybrid yarns previously produced on ring twisters are now much more economical to produce on the TechnoCorder TC2," Allma added.
The TechnoCorder TC2 comes with a larger spindle gauge and thus with gauge of 830 mm is more flexible for processing of coarse titers, with a titer spectrum ranging from 235 to 33,000 dtex.
High end premium yarns in extremely sensitive materials or coarser items can be easily produced in top quality, economically and flexibly on TechnoCorder TC2 like PA, PES, AR, CV and PP.
With the new winding unit, compact yarn packages are especially produced in top quality and with a delivery speed of 450 metres/min is also the fastest twisting machine.
"Innovative process monitoring systems, optimum run of thread and a gentle, low-tension thread guiding system in the TechnoCorder TC2 is the guarantee for quality yarns," Allma explains.
"The new section structure is a perfect ergonomic design which offers the user a particularly high level of comfort in operation," it informed.
Within the Saurer Group, Allma in Kempten and Volkmann in Krefeld make up the business unit Allma Volkmann.
Allma and Volkmann are the leaders in the world of twisting and cabling technology and have been consistently setting milestones in the production of twisting and cabling machines for decades.
As a leader in innovation, Allma provides worldwide leading and energy efficient technology for tire cord and industrial yarns.
While, Volkmann stands for high quality twisting and cabling machines for staple fibre yarns, carpet yarns and glass filament yarns.
The Saurer Group has annual sales of around €1.0 billion and has 4,000 worldwide employees and has operations in Switzerland, Germany, Turkey, Brazil, Mexico, USA, China, India and Singapore.
Source:
http://www.fibre2fashion.com/news/textile-news/newsdetails.aspx?news_id=171653