The company behind a revolutionary process which uses 3D printing to produce optics and lenses has secured 'several million Euros' worth of funding from three international venture capital funds.
Luxexcel announced that investors Munich Venture Partners, ChrysalixSET and Filsa Capital will look to enhance the company's position in additive manufacturing of lenses and optical components.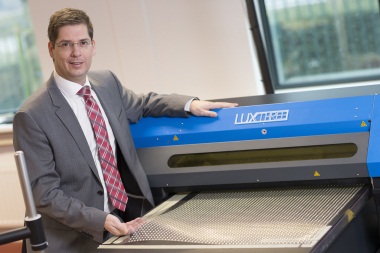 Luxexcel CEO Richard van de Vrie pictured in front of one of the company's 3D printers
The company's patented "Printoptical" 3D printing process allows it to print functional optics. The "CAD-to-Optic" process means the optically-smooth printed product does not?require post processing, thereby allowing design professionals a greater level of design freedom. The ability to design prototypes, manufacture optical products and receive those back in just a few days could have a significant impact on the lighting industry, helping luminaire designers to develop products much more rapidly. It could also lead to product cost reductions, which is of particular significance to the LED industry.
Richard van de Vrie, founder and chairman of Luxexcel said: "This cash injection secures our growth and corporate development, increasing the capabilities that we offer to optical designers and LED lighting manufacturers. Our new partner Munich Venture Partners is one of Germany's largest clean-tech Investors with a very valuable network that will help us to open new doors. I am pleased that Filsa Capital is investing in the company and making its management experience available. The additional capital injection of Chrysalix SET enables us to execute our business plan properly".
Martin Krner, managing partner of Munich Venture Partners said: "We invested in Luxexcel because of their unique patented process to print optics. We believe that their Printoptical Technology will change the way optics are designed, produced, and digitally stored across many different market segments. Although the company is focused on the LED Lighting market, as the capabilities rapidly improve we expect Luxexcel to address similar opportunities in other optical markets. Our team is looking forward to help Luxexcel to accelerate the digitisation of optics manufacturing".
Source:
http://www.lighting.co.uk/news/latest-news/luxexcel-secures-funding-to-further-develop-3d-printed-lenses/8657963.article?blocktitle=Most-popular&contentID=-1