With demand for notebooks stronger than expected and notebook component suppliers conservative about their shipments, several components including panel, battery and solid state drive (SSD), reportedly are suffering from shortages, according to sources from the upstream supply chain.
Several notebook vendors including Hewlett-Packard (HP) and Dell have already increased their notebook shipment forecasts for the second half of 2016 and first half of 2017 recently. Demand for notebooks has also been rising since the second quarter and is growing even stronger in the third quarter due to factors such as low channel inventory, Intel's new processor and rising acceptance for Windows 10 and consumers starting to replacement their old products.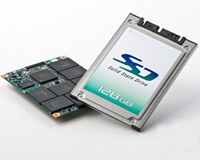 Because of the shortages, vendors have been aggressively securing their component supply, hoping to minimize the impact on their year-end holiday sales.
Panel shortages occurred the earliest and are rather serious currently as most vendors are not able to secure a sufficient volume of supply even if they are willing to pay extra. Most vendors have been seeking for new supply sources.
Demand for SSDs has also been picking up dramatically in the past few years as the component has become necessary for ultra-thin notebooks. Apple's releases of the ultra-thin MacBook Pro, has triggered more vendors to design similar products, and also has had some contribution to rising SSD demand.
As for batteries, since most lithium battery makers have turned their focus from the notebook market to the electric vehicle market, notebook vendors are also seeing trouble acquiring sufficient battery supply for their products.
Meanwhile, Korea-based largest marine transporter Hanjin's bankruptcy filing also caused some vendors to have problems handling logistics for their supply. Although vendors are suffering from shortages, upstream component suppliers are optimistic about the business opportunities and expect it to benefit their performance in the second half of the year.
Source:
http://www.digitimes.com/news/a20160926PD206.html