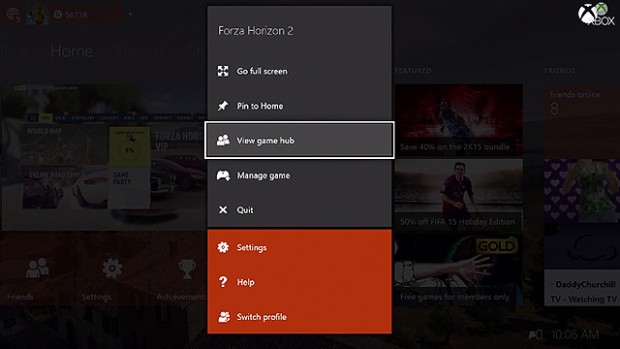 Microsoft has detailed the Xbox One February update ahead of its release next month.

Available to Xbox One preview program members now, the February Xbox One update will focus on Game Hubs and TV service updates.

"Thanks to the Xbox community, we're back in action early this year, kicking off 2015 with another system update preview release on Xbox One", read the Xbox Wire blog post.

Game Hubs are the major new feature coming with the February update.

Microsoft is describing Game Hubs as "a destination for you to stay connected to the games that you enjoy playing."

"It's a lot like your customised profile that represents you on Xbox Live; this is a customised profile that represents the game on Xbox Live."

There's a Game Hub for every Xbox Live game in the Xbox One catalogue. You'll be able to see which of your friends are playing the game, see how your in-game stats compare , compete with them in game leaderboards and dive into the game DVR and broadcasts from the community.

You'll also be able to check out who the stars of the community are for each game.

Microsoft is also adding some shortcuts under the Play Game button, which will allow you to play the way you want to play.

There's the "Play with Achievements" option for playing said game with Achievements snapped at one side. Or there are options for starting a game straight away with a party or with a broadcast snapped.

Related: PS4 vs Xbox One
Custom backgrounds were introduced for the Xbox One back in November, but as of the February update you'll be able to tweak that with tile transparency, making your custom backgrounds more visible.

Microsoft does say that some tiles won't be able to be made transparent due to usage rights and restrictions though.

As for the TV updates, the first major update is that OneGuide is coming to the Netherlands. Also, TV trending for the OneGuide will become available in France, Germany, Brazil and Mexico.

Microsoft has also improved the reliability and robustness of device control with IR Blasting by adding a number of set-top boxes and AV receivers to the Xbox One's IR database. The issues reported by the fan community have also been addressed in this area.

Source:
http://www.trustedreviews.com/news/xbox-one-february-update-detailed