Packaging printer in Poland Intropak Pochocki & Wspólnicy has installed a six-color KBA Rapida 105 with coater.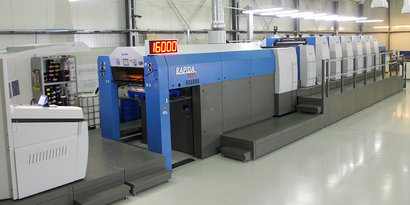 The press, which is mounted on a 450mm plinth for printing packaging at Intropak, is equipped for mixed operation with conventional and UV inks as well as finishing with water-based and UV coating.
The Rapida 105 features additional board and film packages which handle a maximum stock thickness of 1.2mm, automatic plate changing, CleanTronic Multi and CleanTronic UV washing systems as well as nonstop rollers.
According to KBA, the press also features VariDry IR/TA/UV dyers, UV interdeck dyer, ErgoTronic ColorControl, ErgoTronic Lab as well as QualiTronic ColorControl.
Intropak proprietor Dariusz Plochocki said the new Rapida 105 has an extensive kit and more potential compared to its predecessors.
"It allows us to expand our product portfolio. We are confident this new medium-format press will deliver a boost in quality and output, which was the case with our previous KBA presses," Plochocki added.
Intropak's new investment is said to be part of an extensive package of measures aimed at improving production processes and the performance of the entire printing house.
Source:
http://machineryandequipment.packaging-business-review.com/news/polish-packaging-printer-installs-kba-press-140214-4177658