The food industry is capitalising on a booming licensing industry by ensuring big names such as Frozen feature on more packaging.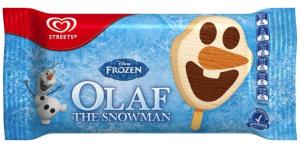 Streets Ice Cream is leading the way in Australia, announcing it will bring to life the favourite character of Olaf the Snowman from the hit animated film this month.
Available as a vanilla, chocolate and orange-flavoured frozen treat, made with dairy milk and free of artificial colours and flavours, the launch coincides with the onset of cooler months.
Streets Ice Creams marketing director Anthony Toovey said the ice cream category required ongoing innovation and on-pack appeal.
"With winter approaching we felt this was the ideal time to develop a truly frozen Olaf the Snowman," he said of the brightly coloured freezer option.
Disney's Frozen franchise has accumulated over $1.2 billion in worldwide box office revenue, ranking as the highest-grossing animated film and the fifth highest-grossing film of all time.
The Golden Globe-winning film was also voted the 2014 Licence of the Year in the Toy & Hobby Retailer Industry Awards, and Disney brought all the characters back to the big screen in the short film Frozen Fever this year.
Categories for the licence have included dress-up, dolls, publishing ranges, furniture, tents, plush and vitamins – but the food category is still largely untapped by Australian brands.
However, licensing innovation is a growing trend. Australian Bananas, for example, just enlisted the firepower of children's animated 'Minions' characters from the Despicable Me films to feature in its next campaign, to be rolled out in more than 1000 independent supermarkets next month. The fun-filled promotion will feature in stores, online and social media.
And a big Australian licence to lead the way in food and packaging is The Wiggles, which sends its supermarket products through a strict approvals process. It follows guidelines developed and reviewed by nutrition experts, focusing on such elements as portion size, the manufacturing process and allergies. The Wiggles have worked with companies such as Heinz, Vitaco/ Healtheries, Sanitarium and Parmalat in the manufacture of its cereals, biscuits, children's meals and rice crackers.
Source:
http://www.packagingnews.com.au/news/frozen-franchise-heats-up-food-space