An interest in better-grade leathers and improved seating systems is keeping leather upholstery showrooms busy at High Point Market as buyers search for ways to avoid low-margin entry-level products.
Producers said they're getting positive feedback on seating groups at middle to upper-end price points, noting that buyers view such items as a ticket to higher margins and fewer service issues.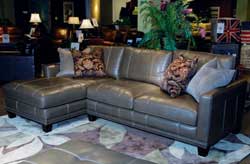 The Zoey leather sectional with its stylish chaise is a market winner at Largo International.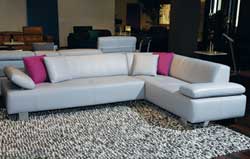 This leather sectional is a key component of HTL Furniture's new Muse line of European contemporary seating.
"It has been a good market for us. We expanded our use of memory foam (as a cushioning material) and people were very enthusiastic about it," said Chris Stevens, president of North American sales and marketing at Violino.
Stevens said memory foam cushioning, which is now used in about 90% of his company's stationary and motion sofas, is popular because the product has instant consumer recognition and delivers a recognizable comfort benefit.
"People who previously said they didn't need it now are saying they must have it," Stevens said.
Sofas with leather/vinyl covers and memory foam cushioning feature starting retail price points of $799 in stationary and $999 in motion, he added.
At the higher end of the market, the focus, as expected, is on all-leather covers. American Leather, for example, is reporting success with a new collection by designer Stanley Jay Friedman, while Bradington-Young, a unit of Hooker Furniture, has found a winner with a lineup of domestically produced leather recliners retailing for $1,499 to $1,999.
"We are getting rave reviews," said Mike Delgatti, president of Hooker Upholstery. "We're finding a lot of interest in the premium recliner segment."
Several new leather upholstery resources focusing on middle and upper-end product also are reporting successful debuts.
Officials at HTL Furniture said they're having success with the company's new Muse brand, which features European contemporary styling, while Bracci, a new high-end line imported from Italy, appears to be off to a good start.
"Our product has been well-received. The customer recognizes the difference," said Bracci President Mauro Bracciale "We're bringing Italian design that's scaled for the North American market."
Sofas in the Bracci line retail for $1,999 to $4,999, while sectionals retail for as much as $12,000.
Stefanie Lucas, president of Domicil and brands at HTL, said the Muse line has been well received by buyers seeking to add a contemporary line that blends well with other styles.
"The idea of using contemporary isn't as scary to people as it used to be," Lucas said.
Source:
http://www.furnituretoday.com/article/568606-Leather_seating_doing_well_in_middle_upper_pricing_at_High_Point_Market.php