SATO has developed a new food label printer which enables food producers and operators to comply with the allergen labelling changes with the minimum of effort and change to existing procedures.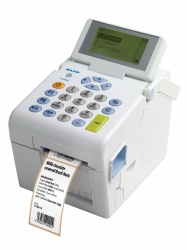 With the company's new solution, food producers and operators can comply with the allergen labeling changes with the minimum of effort and change to current procedures.
In most cases, the solution allow users to go with the existing lists of label formats which may be extensive.
For food allergens solutions, SATO produces labels which automatically and clearly emphasise the 14 substances listed with the EU regulations and also have the flexibility for related words to be highlighted as desired.
Once implemented, the database of allergens and related descriptors is easily controlled and modifiable by the user, said the company.
The company developed the new TH208 food label printer that is said to be ideal for on-demand labeling for sandwich, bakery, deli, catering and other retail applications.
This standalone printer features a large user-keypad used to call up any label, including ingredients, stored within its extensive internal product list.
The printer has anti-microbial casing, small footprint and re-chargeable battery that make it suitable for static location or mobile use anywhere within food preparation or retailing areas.
With SATO's application enabled printer technology, the unit can be customized to perform calculations and operations which are already used to enhance business efficiencies infood outlets across Europe.
For food manufacturing applications, the company offers Windows-based labeling and software solutions that are helpful in ensuring that listed allergen names and any associated descriptions are automatically accentuated on the product label, meeting the demands of the 1169/2011 directive.
The final date when food producing firms and operators must comply with the new requirements of the European Directive 1169/2011 is 13 December 2014.
The directive is said to standardize food and beverage labeling and provide greater clarity to consumers on ingredients, nutrition and allergens and places a responsibility on all companies who provide food information.
Before December 2014, food and beverage manufacturers, retailers and food service operators will have to update their packaging to indicate the presence of allergens by the use of a specific emphasis method that complies with the legislation.
Image: SATO's food labeling printer. Photo: courtesy of SATO Corporation
Source:
http://foodproducts.packaging-business-review.com/news/sato-develops-solutions-for-new-food-allergen-labelling-regulations-040214-4170845