A new methodology to design and manufacture optics for LED lighting was presented at the Bregenz, Austria LED professional Symposium and explained in detail in various workshops.
LUXeXceL Group B.V., founded in 2009 and based in Goes, the Netherlands, offers services for design and additive manufacture of optics such as Fresnel lenses and stained glass replicas that can be applied in LED-based lighting. The company demonstrated the process, called Printoptical Technology, at the recent LED professional Symposium + Expo 2013 in Bregenz, Austria. The technique includes printing 3D optical structures using modified wide-format industrial inkjet equipment. Transparent droplets of an ultraviolet (UV)-curable polymer are jetted and then cured by strong UV lamps, which are integrated onto the print head.
The results of the LUXeXcel process are geometric or freeform shapes that may include transparent prisms or lenses, as well as full-color 3D graphics and textures. The key element of the technology is the piezoelectric controllable print head, which provides a resolution of 1440 dpi or greater. Even though the material is deposited in discrete drops, the resulting surface is smooth. This is accomplished by delaying the time between the jetting of the droplets and the application of UV light, which gives the polymer time to flow and for each droplet to lose its spherical form. Optical quality surfaces are achieved with no post processing.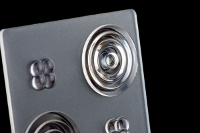 FIG. 1.
Marketing manager Marco de Visser said, "The company is at the forefront of research and development of environmentally friendly, easier, and less costly solutions [that can] act as a game changer for traditional optical products and production methods." The optical devices are engineered to enhance light and light distribution; to improve and simplify the performance, design, and manufacturing of LED lighting optics; and to create new product, marketing, and media possibilities. The focus is on the design, short-term prototyping, and manufacturing of LED lighting optics.
Printoptical Technology includes custom lens design services and rapid prototyping in a patented process. It enables 100% functionality from the initial process start as well as low-cost manufacturing with premium features and mass customization. This technology results in significant cost reduction due to lower investment costs.
Because products are available "on demand" there is no need to estimate demand and you are able to order only when inventory is needed. "It is the first and only process in the world that allows optics fabrication by one-step CAD-to-optic manufacturing," claims de Visser. There are only low upfront design costs due to zero tooling because the mold is digital. "Our customers prepare CAD files of the designs of the optical elements they want and we then create optics directly from those CAD files," explains de Visser.
Integration with leading CAD and optics design software means that less time has to be spent on R&D and additional custom design services, which results in faster product introduction to respond to customer and market needs. No molds need to be created, nor do any intermediate steps or post-processing need to be performed. The process enables low-cost, print-on-demand rapid prototypes and low- to mid-volume production of advanced optics, including Fresnel and free-form lenses, prisms, microstructures, and optical laminates, as well as full-color graphics and textured surfaces.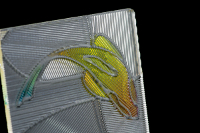 FIG. 2
Due to the fact that Printoptical Technology avoids complicated and costly conventional processes — such as injection molding, diamond turning, polishing, and grinding — used to produce many types of optical components, it's considered a clean technology. The core of the so-called clean tech that the company uses is the sustainable development, manufacturing, and processing of optics and the use of UV-based solutions. Clean tech makes no use of hazardous materials and creates no waste of unusable products or obsolete inventory. Its simplified supply chain results in lower CO2 emissions thanks to digital processing and limited shipping movements.
All key materials are environmentally degradable, and the process is energy-efficient as well as mercury-free. According to de Visser, UV light solutions are the greenest and fastest growing technology used for many diverse applications today. "Thanks to the sustainable management of our resources, we contribute to a more sustainable world. Our commitment in pioneering innovative optical solutions in the optical technology environment, the most alternative and fast emerging light sources for energy conservation, is our must for the future," he concludes.
About the Author Wolfgang Patelay is a contributing editor with LEDs Magazine.
Source:
http://ledsmagazine.com/news/10/10/12