Boston Scientific, a medical device company, has obtained the US Food and Drug Administration clearance and CE Mark approval for its Direxion torqueable microcatheter, designed to facilitate selective access and delivery of diagnostic, embolic and therapeutic materials into the peripheral vasculature.
Direxion torqueable microcatheter is a small lumen microcatheter with a distal outside diameter of 2.51F (0.85mm) and a maximum outside diameter of 2.71F (0.95mm).
It has an inside diameter of 0.021" (0.5mm) minimally in the proximal and distal regions.
The microcatheter lumen is able to accommodate steerable guidewires with diameters 0.018" (0.47mm).
It features a slotted, nitinol hypotube technology that is designed to maximize torque transmission in the catheter shaft.
Direxion torqueable microcatheter device is available in six tip configurations.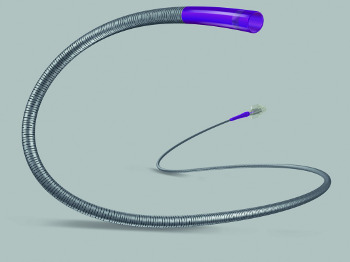 The device is available with the Fathomn-I 6 steerable guidewire and Transend 14/18 steerable guidewires.
These guidewires have a hydrophilic coating to provide lubricity, which aids in the navigation of distal, tortuous vasculature. The guidewires are radiopaque to allow for visualization under fluoroscopy and the tips are shapeable.
The pre-loaded Fathom and Transend guidewires can be used to selectively introduce and position the microcatheter in the peripheral vasculature.
Boston Scientific Peripheral Interventions president Jeff Mirviss noted the company is committed to supporting interventional radiologists with innovative technologies designed to improve outcomes for patients suffering from challenging conditions such as liver cancer and uterine fibroids.
"The Direxion Torqueable Microcatheter adds a completely new technology to our market-leading peripheral embolization portfolio, and its unique slotted nitinol hypotube technology will provide physicians with unrivaled handling characteristics," Mirviss added.
The proprietary shaft design of the Direxion torqueable microcatheter enables better control in hard-to-navigate vessels.
Image: Boston Scientific's Direxion torqueable microcatheter obtains FDA clearance and CE Mark approval Photo: Courtesy of Boston Scientific Corp.
Source:
http://cardiovasculardevices.medicaldevices-business-review.com/news/boston-scientific-obtains-fda-and-ce-mark-approvals-for-direxion-torqueable-microcatheter-201113