Lakemaid Beer Company, a US-based maker of Lakemaid Beer, has added a new lager, Lakemaid Frosty Winter Lager, to portfolio to offer a new winter drink for its customers.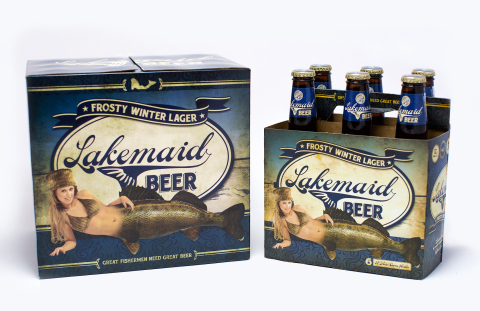 The new lager features a deep amber color and offers a smooth, American craft malted flavor.
Unlike the summer offering Lakemaid Beer, the Frosty Winter Lager has icicle-sparkle of hops taste that pairs well with deep fried walleye or perch.
The new lager, which will be available throughout the Upper Midwest starting in November 2013, will only be available for ice fishing season at loyal beer distributors.
Packed in a 6-pack and 12-pack bottles, each of the Lakemaid Frosty Winter Lager bottle will feature a picture of one of 12 Lakemaids and a unique winter bottle cap.
Each cap on the inside will have 'catch', a description of a fish or an object that an angler can catch while ice fishing, such as 'Thin Ice,' 'Bucket Butt,' 'Eelpout,' or '12-lb. walleye.'
Totally, there are 56 different bottle caps for traditional Lakemaid Fisherman's Lager.
Similarly, the new Frosty Winter Lager will have 56 different ice fishing specific Lakemaid Beer bottle caps.
Lakemaid Beer Company president Jack Supple said in Lake Country, they savor both the summer and the winter.
"We created Lakemaid Beer for people who enjoy spending their time on or near the water all year round. Great fishermen deserve great beer. And now ice fishermen can cozy up to a Lakemaid, too!," Supple added.
The traditional Lakemaid Beer was launched in May 2008 in twelve varieties such as Miss Walleye, Miss Muskie, Miss Northern Pike, Miss Largemouth Bass, Miss Sturgeon, Miss Perch, Miss Rainbow Trout, Miss Crappie, Miss Smallmouth Bass, Miss Sunfish, Miss Catfish and Miss Salmon.
Image: Lakemaid Brewing Company unveils Lakemaid Frosty Winter Lager for ice fishing season. Photo courtesy of Lakemaid Beer.
Source:
http://www.drinks-business-review.com/news/lakemaid-beer-to-add-new-frosty-winter-lager-to-portfolio-191113