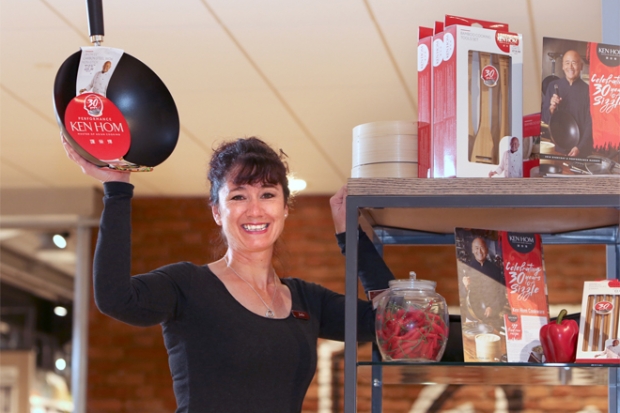 Chef Ken Hom is bringing his wok to Barkers Home for a special cookery demonstration. The man who introduced the stir-fry to British kitchens will give a demonstration of his culinary skills at the family-run business on Yafforth Road on Sunday, 2nd October.
Tickets have sold out to see Ken cook in the Barkers Home cook, wine and dine department, from 2.30pm, and it is now standing room only. His guest appearance will be a rare opportunity for cookery fans to see the US-based chef.
The Northallerton store is among the official stockists of Ken Hom Cookware, so has been able to secure an appearance by the veteran chef at its new-look lifestyle and home store, which underwent a £3.5m redevelopment six months ago.
Julie Poynton, buyer for the cook, wine and dine department [pictured], says: "When we were creating the new-look store, it was a personal aim of mine to have cookery demonstrations. But to be able to secure a big-name celebrity chef like Ken Hom, who is famous all over the world, was beyond our expectations. Hosting this event is a fantastic way to celebrate the opening of the store, and it is clearly going to be a popular event."
Source:
http://www.furniturenews.net/news/articles/2016/09/324464530-celebrity-chef-visit-barkers-home