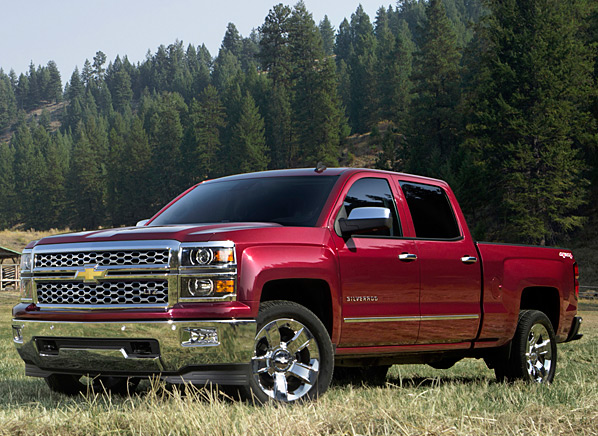 It may not look radically different on the outside, but the Chevrolet Silverado pickup has been completely redesigned and significantly upgraded for 2014. A new chassis, updated powertrain technology with several mileage-enhancing measures, and a plusher interior promise to keep this cash cow competitive. We recently had the opportunity to drive a new LTZ crew-cab, and we liked it.
On the road, the Silverado's cabin stays impressively quiet, with sound levels closer to what you'd expect from a luxury sedan rather than a big pickup. The ride was another pleasant surprise, compliant and controlled even riding on the optional 20-inch tires. GM didn't go in for rear coil springs, as Chrysler did with the Ram, but the Silverado's two-stage leaf springs don't seem to hurt it any. The steering is responsive, linear, and appropriately weighted. Even brake-pedal feel, something that's hard to get right in a body-on-frame truck, was quite good on the LTZ.
The base engine is a new 285-hp, 4.3-liter V6, but the volume leader will be a 355-hp, 5.3-liter V8, which is how the truck we drove was equipped. Top-spec versions get the more-powerful 6.2-liter V8. The engines each have direct injection, variable-valve timing, and cylinder deactivation, and all are mated to a six-speed automatic transmission.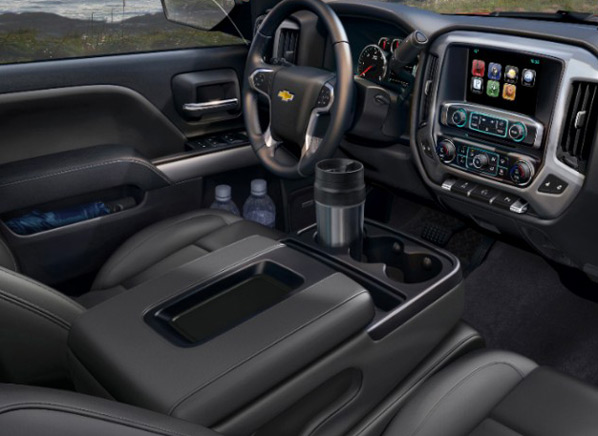 As is the trend across the industry, power steering is electrically assisted. Advanced safety features, such as lane-departure and forward-collision warning systems, are optional. The 8-inch MyLink infotainment touch screen dominates the center dash. It facilitates connectivity of all types and doubles as a large, colorful display screen for the rearview camera.
Cabin materials are much more substantial and attractive than previously. Some toggle switches are stylish yet large enough to be operated wearing work gloves. The tailgate has an optional damping mechanism, like the Nissan Titan and Toyota Tundra, so it lowers gently rather than dropping like a rock.
Overall, our brief experience with the 2014 Silverado tells us that GM has taken a good truck and made it better. This is good for truck buyers and vital for GM, as the Silverado and its GMC Sierra twin will be dueling with a newly freshened Ram and upcoming redesigned Ford F-150. The new Silverado goes on sale in June.
Source:
http://news.consumerreports.org/cars/2013/05/first-drive-redesigned-2014-chevrolet-silverado-pickup-truck-impresses.html#comments