Despite a dip in results during March, the April edition of the Stifel Logistics Confidence Index returned to the trend of month on month improvements seen in January and February.
Nonetheless, structural issues within both the air and sea freight industries remain, with global economic performance offering few consolations.
Following on from its research showing a net negative effect to expanding the size of container ships to 24,000 TEU, Drewry cited carrier figures showing a reduction of newbuilds as evidence that shipping lines recognise this situation, as they are "running out of profitable trades to deploy the mega-ships".
Nonetheless, industry analysts believe that failing carriers will not go under in the event of financial peril, referencing the means by which leading companies in the industry found ways to survive in the wake of the 2009 financial crisis.
The picture is not much better in air freight, with IATA's release of February volume figures showing the second month of 2016 down against the previous year by 5.6%. According to the organisation, this represents the greatest year on year decline in three years, though this was largely derived from exceptionally strong volume figures in February 2015, a product of the West Coast Port strikes in the US at the time.
Due to the growth in passenger demand, freight capacity rose by 7.5% during the period, with load factors consequently down by 5.7%. Two bright spots for the industry were the Latin American and Middle Eastern regions, which saw volume improvements against the overall trend; these markets saw volumes increase by 2.7% and 3.7% year on year, respectively.
Airfreight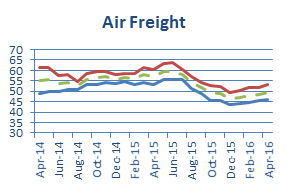 The air freight logistics confidence index gained 1.0 point in April 2016, totalling 49.6. This result is 7.4 points below that for April 2015, and 5.6 points lower than in April 2014.
The present situation results rose by 0.6 of a point to 46.0. This was chiefly derived from a 4.0 gain in the Asia to Europe lane, which totalled 45.4 as a result. This was the only lane to register an improvement, however, with US to Europe declining 1.8 points to 47.2, and Europe to Asia down 0.2 to 38.9. Europe to US was flat against the March results.
In the expected outlook, the results by lane were unanimously positive, with gains across the board. Europe to US was the biggest gainer, with 3.6 points taking it to 55.8. This was followed by US to Europe, which gained 1.6 points to 54.9, Asia to Europe, which rose 0.8 points to 52.6, and Europe to Asia, which was up 0.5 points to 50.2.
Seafreight
The logistics confidence index for sea freight remained unchanged at 45.3, kept in balance by a weak improvement in the current situation, and a weak decline in the expected situation.
For the present situation, the index rose by 0.1 of a point to 41.6, with half of the lanes noting improvements. These were US to Europe, which was up by 4.6 points to 42.5, and Europe to US, the only positive lane, which gained 1.9 points to 51.2. These overcame declines of 3.9 points in Europe to Asia, which stood at 34.3, and of 1.4 points in Asia to Europe, which amounted to 39.6.
Running against this, the expected situation index for sea freight fell by 0.1 points to 49.0, with a solitary gain of 3.8 points in the US to Europe lane not enough to offset declines of 2.7 in Asia to Europe, 0.6 in Europe to US, and 0.2 in Europe to Asia. Respectively, the lanes totalled 50.0, 47.8, 55.4, and 43.9.
Source:
http://www.tandlnews.com.au/2016/04/20/article/a-return-to-decline-freight-confidence-index-falls-month-on-month/