DB Schenker is opening a new freight forwarding facility to handle dry and perishable freight.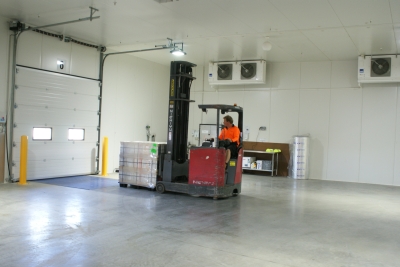 The new Eagle Farm facility at Trade Coast Central, 9km from Brisbane's International Airport, will enable the company to complement its existing dry freight handling capabilities with the inclusion of 1,100 square metres (sqm) of cool rooms.
The addition of the cool rooms will enable the company to handle the import and export of healthcare and perishables products including meat, seafood, dairy products, fruit and vegetables, confectionary and pharmaceutical and medical supplies.
CEO Ron Koehler said the facility represents a $10 million investment over the next ten years and comprises a 2,500 sqm warehouse and 800 sqm office, with integrated cold chain facilities including anteroom, ambient temperature room, chiller and freezer.
"In the past year there was around $4.5 billion of beef, other meat, wheat and vegetables exported out of Queensland alone," Mr Koehler said.
"We are now in a position to better serve this sector, as well as other commodities that are imported and exported out of South East Queensland by both air and ocean.
"At any given time this facility is able to hold 850 Australian standard pallets of stock in our ambient temperature room and 120 Australian standard pallets of stock in our chiller/freezer rooms, all of which are fitted with state of the art temperature monitoring.
"The facility has gained AQIS export accreditation for meat, seafood, dairy, eggs, plants and fruit and vegetables and is also well equipped for healthcare products.
"Our Eagle Farm facility is also well positioned to cater for normal retrieval and handling activities for import and export air and ocean freight."
The facility is the second facility that the German head-quartered company opened in Queensland this year. In August it opened a warehouse facility at the Redbank Motorway Estate in Ipswich.
Mr Koehler said the facility incorporated the most recent energy saving technologies and had been purpose built for the next ten years allowing DB Schenker to change its operations in line with changing market requirements.
"One of the most important aspects is the 54 kilowatt roof-mounted solar energy system that provides up to 30 per cent of the building's electricity requirements. This solar energy system can be doubled as required as business in Queensland grows," he said.
Key features include:
Insulated warehouse prepared for healthcare/perishables. Up-rated 54kw solar energy system capable of expansion to 100kW. Integrated building management system controlling all functions including on-site generator for consistent electricity supply to cool rooms. Latest in environmental engineering incorporated into building design, including upgraded air conditioning, double glazed windows, LED lighting throughout, recycled water used where applicable.
Source:
http://www.tandlnews.com.au/2014/11/06/article/new-hi-tech-cold-storage-facility-opens-brisbane/