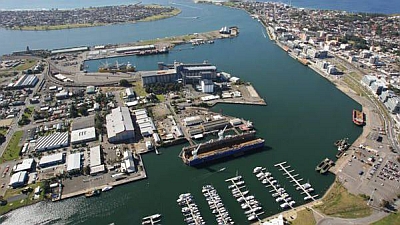 Greg Cameron
Call for an "Upper Hunter Economic Development Corporation" (Newcastle Herald Editorial, March 9) were also made 20 years ago when the region wanted to participate in the benefits of a container terminal after closure of Newcastle steelworks.
Around 80 per cent of world trade in non-bulk commodities is conducted using container shipping. An "Upper Hunter Economic Development Corporation" will be largely irrelevant if there is no access to a container port at Newcastle. Port Botany is out of the question.
Twenty years ago, Hunter councils and trade unions actively supported BHP's proposal for a container terminal on the former steelworks site. Much of the social agony now coming with the slow death of the coal industry would have been avoided if the state government had not intervened in 2002 by taking over the former steelworks site and terminating all plans for a container terminal. And nothing's changed.
Purely in terms of risk management, coal exporting is a long-term loser for the best deepwater port on the east coast of Australia: no port should be so utterly dependent on a single commodity. And nor should the region's economy be.
But a container terminal is unavailable other than on highly restrictive terms. The state government charges a secret fee on every container moved through the Port of Newcastle above a specified number each year, and pays this money as compensation when container shipping lines choose Newcastle port over Port Botany.
The fee is believed to be $100 per container – the same amount as charged at Port Botany. No shipping line will pay twice as much to use Newcastle instead of Port Botany.
A deal will need to be struck with the state government and the Port Botany leaseholder if the port is to wriggle out of the punitive $100 fee. That deal will involve container ships using the Port of Newcastle without taking business away from Port Botany. How does that work?
On 17 October 2013, The Hon Duncan Gay MLC, informed state parliament that a cap on numbers of containers at the Port of Newcastle was imposed before Port Botany was leased in April 2013. Mr Gay said the government did not envisage a need to put funds in place for paying any compensation to NSW Ports, because this cap on numbers will not be extended until a specified number of containers is reached at Port Botany and Port Kembla.
It is not possible to examine these arrangements for lawfulness because they are confidential. Labor and the Greens have asked more than 100 "Questions on Notice" since October 2014, without the government disclosing any details. It is implausible that government ministers had no knowledge of such arrangements.
Hunter Councils and unions show no interest in a container terminal at the Port of Newcastle.
Member for Newcastle, Mr Tim Crakanthorp MP, asked Treasurer, The Hon Gladys Berejiklian MP: "What is the cap on numbers at the Port of Newcastle?" The answer is due on 24 March.
Councils and unions, if they wanted to, could ask Ms Berejiklian for an actual answer.
In 2010, Newcastle Port Corporation (NPC) called for tenders for building a multi-purpose terminal to include a container terminal with minimum capacity of 1 million containers (TEU) per year, at the Port of Newcastle. In October 2010, NPC was ready to proceed to contract with the selected tenderer, Anglo Ports. In a media statement dated 4 March 2015, NSW Treasury said: "Newcastle Port Corporation concluded its negotiations with Anglo Ports in November 2013 after it was unable to reach a suitable outcome for the redevelopment of the Mayfield site." But in an earlier statement published on the NSW parliament web site on 10 February 2015, Anglo Ports said it did not withdraw from these negotiations.
Ms Berejiklian was asked on 3 September 2015: "Has the NSW Government entered into any agreements that create a disincentive or obstacle to develop a container terminal at the Port of Newcastle?", and answered, "I am advised that the lessee could develop a container terminal at the Port of Newcastle if it wished to do so."
…. and, if it wished to pay a fee of $100 per container to the state government.
Source:
http://www.tandlnews.com.au/2016/03/09/article/upper-hunter-has-its-hands-tied-behind-its-back/