The average time taken for Australian businesses to pay their invoices has fallen to the lowest level since the third quarter of 2007, in further signs that operating conditions have strengthened this year and the business sector's cash position is improving.
According to Dun & Bradstreet's Trade Payments Analysis, businesses settled their accounts in an average of 51.7 days during Q3 2014, with the proportion of invoices paid within standard terms (1–30 days) lifting to 54 per cent (see chart).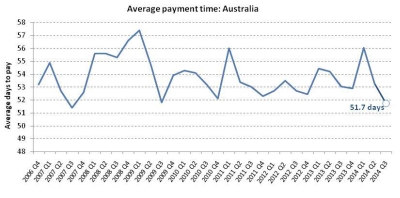 The steady improvement in invoice payment times since the global financial crisis is reflective of a gradual recuperation in the business sector and signs of more resilient finances.
Cashflow is on ongoing concern for businesses of all sizes, and a key factor in their ability to manage is the speed in which they get paid. The trend for faster payments is helping move money into the hands of business owners earlier and, in turn, helping them cover their expenses, pay their suppliers and invest in the growth of their business.
Despite this positive trend, at more than 50 days the Australian payment cycle is relatively slow, being 11 days later than in New Zealand.
All sectors saw improvements in the time taken to settle invoices, with the fishing industry paying bills the fastest, at an average of 45.4 days, down from 50.8 days a year earlier (see chart).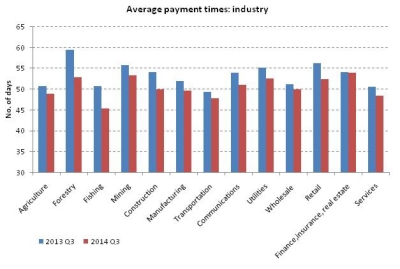 At 48.4 days, the services sector was the second fastest to pay its invoices, followed by the agriculture industry at 48.9 days.
Businesses operating in the finance, insurance and real estate sector were the slowest to settle their accounts, taking an average of 54 days; a flat result compared to the year before.
At 53.3 days, the mining industry took the second-longest amount of time to clear its bills during the third quarter of the year.
Despite a late-paying mining industry and signs that economic performance in Western Australia is slowing, businesses in the west recorded the fastest average payment times (48.2 days), followed by South Australia (49.4 days) and the Northern Territory (49.6 days).
The ACT was the nation's slowest paying region, at an average of 54 days, followed by New South Wales (53.9 days).
Across the country, big business continued to take the longest time to settle invoices.
Despite a three-day improvement on Q3 2013, companies with more than 500 staff made their payments in an average of 52.8 days. The fastest were those businesses with between 50–199 employees, which paid their bills in an average of 44.6 days.
Source:
http://www.tandlnews.com.au/2014/11/20/article/payment-times-return-pre-gfc-levels/